Register with:
---
or register with your emailaddress
LS15 offizielles Add-On
Am 29.10. kommt das offizielle Add-On für den Landwirtschafts Simulator
Jetzt vorbestellen...
Claas Dominator 58 mod for Farming Simulator 2011
0 Downloads today
1,476 Downloads total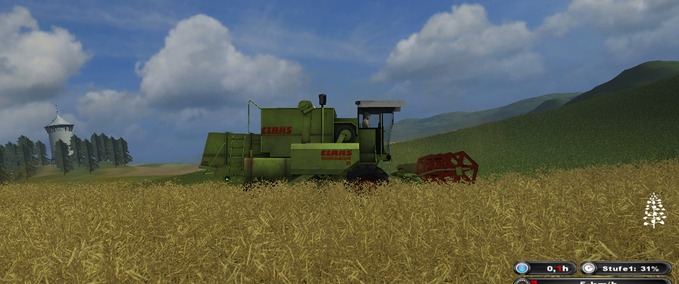 Claas Dominator 58 v
Da die Nachfrage nach dem Mod doch größer war als gedacht habe ich mich an eine V2 gesetzt. Wieder gibt es keine Modelländerung, lediglich an den Reifen wurde das Profil etwas weniger rundlich gestaltet.
Ansonsten wurde die Textur überarbeitet, das Grün kräftiger gemacht, die Kontraste erhöht und die Spiegelung der Specularnmap verringert. Ausserdem wurde der Auspuff Farblich abgesetzt und am Tank wurden die Spuren von vielem Nachtanken sichtbar...

Natürlich bekam er auch noch ein paar Funktionen verpasst.

Funktionen:
Der Drescher hat eine Spec mit der man wie beim Agrotron M 620 Edited nach hinten schauen kann, allerdings ist die Funktion für nach links und rechts weggefallen, stattdessen kann man über die Tasten sich im Cockpit nach vorn oder hinten bewegen.
Ausserdem hat er ein Arbeitslicht das das komplette Schneidwerk ausleuchtet und ein Licht in Richtung der Pipe. Beides getrennt schaltbar und natürlich dank beleuchtungV3 MP tauglich, ebenso das Bremslicht.
Beim Cutter kann man mit der Maus, so wie bei den Frontladern, den Haspel in der höhe verstellen.
| | |
| --- | --- |
| checksum: | a21ed9b97737143c450d283090f263ba |
| Version: | |
| multiplayer ready? | no |
| Author: | |
| price in shop: | LS |
| name in shop: | |
| description in shop: | |
Modell: Giants Software
Textur: Giants Software, edited by modelleicher
Scripts: Face, modelleicher
andere Umbauten: modelleicher
finale anpassungen: fendt2000

CamSpecV2
beleuchtung
operatingHours
ESLimiter
motorized
steerable
cylindered
combine
hirable
AICombine
honk
attachable
cutter
mouseControlsVehicle
Do you think this mod should be featured?
NaN%
Empfehlungsrate:
noch nicht genug Stimmen
Comments for Claas Dominator 58