Register with:
---
or register with your emailaddress
other versions of this mod
LS15 offizielles Add-On
Am 29.10. kommt das offizielle Add-On für den Landwirtschafts Simulator
Jetzt vorbestellen...
CLAAS Lexion 460 mod for Farming Simulator 2011
0 Downloads today
6,772 Downloads total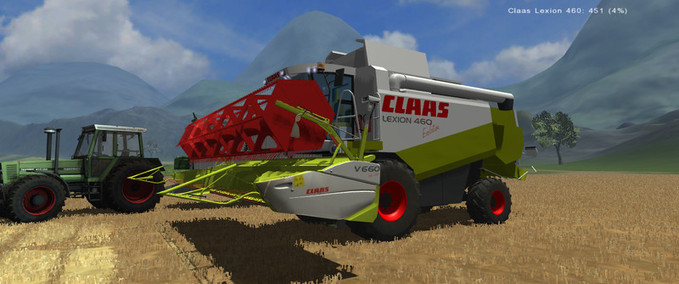 CLAAS Lexion 460 v 2.1
Der Fehler mit den Fahrzeugen ist nun behoben!
Funktionen CLAAS Lexion 460:
Motorstart
Betriebsstundenzähler
Beleuchtung V3.1
Indoorsound
Blinker (animierter Hebel)
Tür zum öffnen
Hilfemenü -- NUMPAD 0
Drehzahlbegrenzer
animierte Pedale
Füllstandsanzeige
Fahrspuren auf Weg
animierter Korntank
animierte Leiter
Strohhäcksler ein/ausschaltbar
IC
zuschaltbare Kameras
Waschbar (nicht getestet)
realer Dreschsound

Funktionen Claas V660:
mausgesteuerte Haspel (auf,ab,vor,zurück)
Einzugsanimation
Funktionen Claas SWW:
Dateigröße: 16,7 MB
ACHTUNG: DAS ARCHIV MUSS NICHT ENTPACKT WERDEN!
Ready for: SP & MP (nicht getestet)
Der Mod darf auch auf anderen Seiten zum DL angeboten werden, aber nur unter Verwendung des original DL-LINK für alle anderen Seiten! Das Mod(-Paket) darf ohne Zustimmung des Ur-Modders nicht verändert und neu hochgeladen werden! This Mod can be released on other Websites, but only by using the DL-LINK for other sites! It is not allowed to edit this Mod(-Pack) and reupload it without the permission of the Modder.
Wem der Mod gefällt, "Bedanken" und "Bewerten" Knopf nicht vergessen, und wer nichts verpassen möchte, einfach auf meinen Namen klicken und "Beobachten" drücken.
checksum:
8349f4ec7a7ad88b1f203238ed8a6e59
Version:
2.1
multiplayer ready?
no
Author:
ls-for-ever
price in shop:
294000 LS
name in shop:
Claas Lexion 460
description in shop:
Typ: CLAAS LEXION 460
Dreschsystem: APS + 6 Schüttler
Arbeitsbreite: 6,00 bis 7,50
Motorleistung: 220 KW/300 PS
Korntankinhalt: 9600 Liter
Version 2.0
Urmodder: shangri66
Umbauer damals: MONSTER/Larry
Cams: Face
alle Scripter hier zu erwähnen wird zu lang und ich bin zu schreibfaul

Ich habe eine Erlaubnis zum Umbau!!
motorized
steerable
hirable
combine
AICombine
strawSpec
operatingHours
Klappen
Klappen2
Klappen3
extraLightSources
ESLimiter
fuellstand
beleuchtung31
WheelDirtSpecialization
greenstar
Fenster
manualIgnition
hud
aiNightlight
indoorSound
interactiveControl
interactiveButtons
interactiveBackupCam
specialJoint
threshingCounter
washable
attachable
cutter
mouseControlsVehicle
cylindered
additionalBackupCam
fruitParticleSystem
BISO
Do you think this mod should be featured?
66.67%
Empfehlungsrate:
nach 18 Stimmen
Comments for CLAAS Lexion 460