Claas Quantum 6800S Mod for Farming Simulator 2011
0 Downloads today
20.697 Downloads total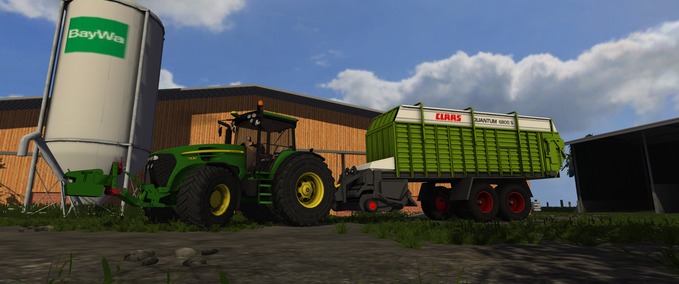 Claas Quantum 6800S v 3
Claas Quantum 6800S:


Features:
Shafts with a mouse-controlled
-Pickup with fully animated Particlesystem
Lighting
Power-custody
-Animated slate floor
Capacity-38m ³
-Filscale on 2
Changelog 3:

Tires by Agrotron155
Lighting V3.1
-And much more.
Lg AndyW
checksum:
99cd5f75f6dae646f416f2a60d2b8f90
Version:
3
multiplayer ready?
no
Author:
Kanalratte and Andy W
price in shop:
43250 LS
name in shop:
Claas Quantum 6800S
description in shop:
Modell/Textur: MF390
Ingame: Andy W and Kanalratte
Script: Heady, Sven777b, SFM-Modding
Reifen: Agrotron 155
Modell/Textur: MF390
Ingame: AndyW & Kanalratte
Script: Fruktor, SFM-Modding, Heady & Sven777b
Reifen: Agrotron155
attachable
fillable
loadingTrailer
animatedVehicle
cylindered
powerShaft
pickup
mouseControlsVehicle
bergmannShuttle700s
beleuchtung
poettingerJumbo10000
Do you think this mod should be featured?
82.35%
Empfehlungsrate:
nach 17 Stimmen
Coments for Claas Quantum 6800S