Register with:
---
or register with your emailaddress
other versions of this mod
LS15 offizielles Add-On
Am 29.10. kommt das offizielle Add-On für den Landwirtschafts Simulator
Jetzt vorbestellen...
Clayson mod for Farming Simulator 2011
0 Downloads today
1,221 Downloads total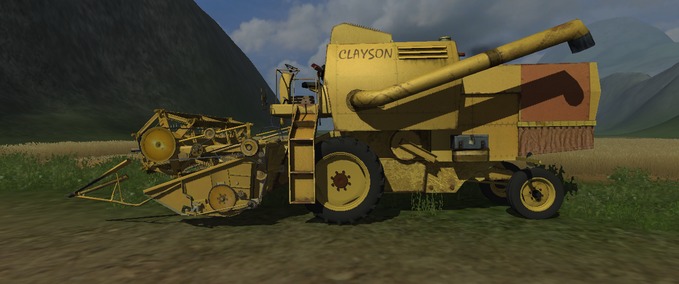 Clayson v 1.0
I once got from the Lizard done what he really is, a New Holland Clayson.Das model has been improved in many ways:

- The skin has changed visually (compare for yourself)
- The swath was better adjusted
- The grain output has changed (no more clouds so'n)
- Operating Hours have installed
- I installed manualIgnition
- I installed ESLimiter
- I installed a barn door can be opened on the 5 key
- Fitted new wheels and have a nicer steering wheel
- Have an exhaust fitted, of course, with smoke
- Bits and pieces you see yourself

- Have a bison cutting geskint and rebuilt so that it comes very close to the original NH
- Cutting factory is now logfrei
- The cutting is complete animiert.Bedienung: Num 4, Num 5, Num 6, Num 8

So and now a lot of fun with these Oldi.Wenn you want I'll do another with multi-fruit.

I have always been the direct link.

The mod is intended for this page only and should not be linked.
It is forbidden to this mod or parts thereof, re-upload, even in modified form!
checksum:
fc1b74ff7075deaa11b39dc3d30465f9
Version:
1.0
multiplayer ready?
no
Author:
GIANTS-Software-Thuruk
price in shop:
6000 LS
name in shop:
Clayson
description in shop:
Baujahr: 1967
Korntank: 4000l

Skin,Umbau,Scripteeinbau: Thuruk auf modhoster.de
checksum:
fc1b74ff7075deaa11b39dc3d30465f9
Version:
1.0
multiplayer ready?
no
Author:
Asd4,Thuruk
price in shop:
1000 LS
name in shop:
Claysoncutter
description in shop:
Schneidwerk Clayson

Model: Marcello1942
Programm: Fumski/Asd4
Skript: Asd4
Umbau,Skin: Thuruk
Drescher:Giants-Software;Thuruk
Originalschneidwerk: Asd4 & Marcell1942
Claysonschneidwerk: Asd4 & Marcell1942;Thuruk

attachable
cutter
heder_bs
animation
animatedVehicle
Do you think this mod should be featured?
NaN%
Empfehlungsrate:
noch nicht genug Stimmen