Register with:
---
or register with your emailaddress
LS15 offizielles Add-On
Am 29.10. kommt das offizielle Add-On für den Landwirtschafts Simulator
Jetzt vorbestellen...
Eicher King Tiger wheel EA 400 mod for Farming Simulator 2011
0 Downloads today
19,720 Downloads total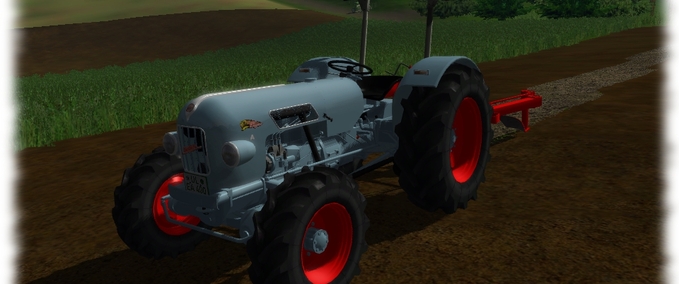 Eicher King Tiger wheel EA 400 v 1.0
Eicher King Tiger wheel EA 400




Features:
- Powershat, ESLimiter, Operating Hours

- Rear work light
- Realistic level / high beam
- Swing axle
- Fully animated steering linkage
- Fully animated wheel shaft
- Fully animated rear hydraulics
- Animated accelerator
- Animated speedometer
- Indicator lights for turn signals and high beam in the cab
- Hud with keyboard layout and Credits


- Largely 1:1 scale!

About the original:
The King Tiger Eicher wheel was with the Technical designation of EA400 1963 - built in 1968 a total of 1050 times. He has 3 cylinders and 40 horsepower. White he could dial with overdrive, the rate of 20 to 28 km / h are ordered increases.
With its low center of gravity is capable of climbing and thus Eicher very best on slopes or suitable for the forest.
checksum:
94241988152413414ab8966ea307eeae
Version:
1.0
multiplayer ready?
no
Author:
modelleicher
price in shop:
7600 LS
name in shop:
Eicher Königstiger EA 400
description in shop:
Modell: Modelleicher (Allradwelle by Luis)
Ingame/Script: Modelleicher (ESLimiter, OPHours, PowerShaft by Face; belV3 by sven777b)
Textur: Modelleicher (Bilder by ansomale)
Sound: ClaasXerion5000VC, Schnitt by Modelleicherand ansomale
released by

Modell: modelleicher (Allradwelle by Luis)

Textur: modelleicher (Danke an ansomale für Detailbilder der Logos etc. !)



Ingame: modelleicher

Scripts:

- ESLimiter: Face

- OperatingHours: Face

- PowerShaftAttacher: Face

- BeleuchtungV3: Sven777b



- allradwellenAnimation.lua : modelleicher

- animatedDetails.lua : modelleicher

- hydraulicAnimations.lua : modelleicher

- imgBasedHud.lua : modelleicher

- Lenkgestaenge.lua : modelleicher

- oldtimerLights.lua : modelleicher

- unterlenkerScale.lua : modelleicher

- ZugmaulVisibilityV2.lua : modelleicher





Sound:

Originalaufnahmen von ClaasXerion5000VC

Schnitt und Nachbearbeitung: modelleicher und ansomale





motorized
steerable
hirable
aiTractor
honk
operatingHours
ESLimiter
powerShaftAttacher
beleuchtung
Lenkgestaenge
ZugmaulVisibilityV2
hydraulicAnimations
animatedDetails
oldtimerLights
allradwelleAnimation
imgBasedHud
unterlenkerScale
Do you think this mod should be featured?
96.88%
Empfehlungsrate:
nach 66 Stimmen
Comments for Eicher King Tiger wheel EA 400