Register with:
---
or register with your emailaddress
LS15 offizielles Add-On
Am 29.10. kommt das offizielle Add-On für den Landwirtschafts Simulator
Jetzt vorbestellen...
Fire department mod for Farming Simulator 2011
3 Downloads today
19,294 Downloads total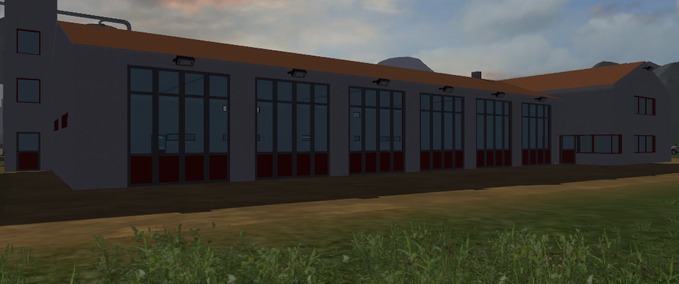 Fire department v 2.0
Hallihallo,

nun ist es endlich soweit, die zweite Version meiner Feuerwehr ist fertig.
Die Tore bzw. Türen lassen sich mit der Taste O öffnen und schliesen
Die Sirene wird auch durch drücken der Taste O (Im Kontrollraum) an bzw. aus gemacht
Die Tor lassen sich nur von innen öffnen
Es wurde verändert :
- die alten Tore wurden durch neu Falttore ersetzt
- es wurde Licht verbaut (wegen der Performance wurde das Licht auf ein minimum beschränkt)
- ein Kontrollraum wurde unten neben der Eingangstür (neben den Toren) erstellt
- im Kontrollraum selber kann die Sirene an und aus gestellt werden
- auf dem Dach wurde noch eine Sirene verbaut
- an der Glasseite und am Turm kann man nun die Türen öffnen
- in der Hallendecke wurden Deckenlampen installiert (ohne Funktion)
Ich Hoffe Sie gefällt Euch, für Anregungen oder Kritik bin ich euch sehr dankbar!
Der Mod muss mit dem GiantsEditor in eure Map eingefügt werden!
(Wer nicht weiss wie das gemacht wird, einfach mal bei Modhoster unter Tutorials nachschauen)
Es wird der MapDoorTrigger von John Deere 6930 benötigt (gibt es bei Modhoster)
Dieser Mod darf ohne meine Erlaubnis NICHT verändert werden!!!
Dieser Mod darf überhall unter der Verwendung des ORIGINALEN Downloadlink zum Download gestellt werden!
So nun wünsche ich Euch viel Spaß damit!
Gruß Wildfuchs
Wildfuchs
Do you think this mod should be featured?
73.33%
Empfehlungsrate:
nach 15 Stimmen
Comments for Fire department