Register with:
---
or register with your emailaddress
LS15 offizielles Add-On
Am 29.10. kommt das offizielle Add-On für den Landwirtschafts Simulator
Jetzt vorbestellen...
Ford 551 mod for Farming Simulator 2013
0 Downloads today
5,004 Downloads total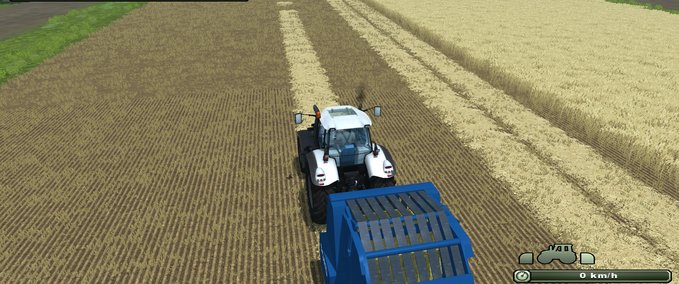 Ford 551 v 3.1 MR
Ford 551 round baler

Revised version of the Ford 551 round baler of ccs101 (http://www.modhoster.de/mods/ford-551-roundbaler-2013).

Pressed wheat and barley straw and hay and grass.

Ball capacity 3000 l

What's new:

- Original Giants bales with new texture added (original straw bales were recognized as the feed mixer)
 - Bale Planning inserted, the bale is now visible and with increasing filling larger (disappears at 99% in order to make the real bales Square)
   ? In the photos from the original that I could find on the internet, I am not sure if the straps are wrapped around the bale, have therefore dispensed with a corresponding replica?
 Adjusted PTO at LS13 -
 - Driving dust added (Credit: Manuel leithner, SFM-Modding)
 - Lighting Script added (credits: Sven777b)
 Translated texts in German -
 - Adjusted price to € 12,800 LS (used internet search balers)

- ENGLISH ------------------

Changes:
 - Replaced original Giants bales by bales with new texture (original mod bales of straw were all Regarded as by feed mixer)
 - Inserted plan for loading progress, now the bale grows with Increasing filling (it vanishes at 99% to be Replaced by bale to unload)
   ? I did not find pictures in the internet of the real where the baler baling process is shown. Therefore I am not sure if the belts go around the bale during pressing. I omitted examined belts. ?
 - Power Take-Off angepasst to LS13
 - Added dust (Credit: Manuel leithner, SFM-Modding)
 - Added turn lights (Credit: Sven777b)
 - Translation to German
 - Price set to € 12,800 LS (medium price of used balers taken from internet)

Original upload text:
Ford 551 Roundbaler v 2.0

This is my skin for 2011 Ford 551 baler converted for FS 2013

Mainly Ford balers were sold in the 70s and were manufactured for Ford by Gehl. The Ford 551 and later the 552 were quite popular in Their day.

Bales wheat and barley straw, grass or drygrass

B: turns on / off baler

X: unloads bale
added on 24.05.2013 by ccs101
12 Feb 17:13

Version 3.1 MR

Da es noch keine günstige "gebrauchte" Rundballenpresse für MoreRealistic gibt, habe ich die Ford 551 auf MoreRealistic umgestellt. Gewichte und Leistungsangaben sind mangels anderer Quellen von der Gehl-Presse.

05 Jun 21:16

Version 3.1
checksum:
43e27678a2ce65b536472e5ea0006544
Version:
3.1 MR
multiplayer ready?
yes
Author:
Paldoo + TracMaxx
price in shop:
12800 LS
name in shop:
Ford 551 Rundballenpresse
description in shop:
Eine Ford 551 Ballenpresse aus den 1970er Jahren in sehr gutem Zustand.

Ford Rundballenpressen wurden in den 1970er Jahren von Ghel für
Ford produziert, die 551 und später die 552 waren seinerzeit sehr beliebt.

Für LS2013: ccs101 und TracMaxx
ccs101 (Original Mod)
Manuel Leithner, SFM-Modding (Fahrstaub)
Sven777b (Beleuchtungsskript)
attachable
animatedVehicle
cylindered
fillable
Baler
beleuchtung31
drivingParticleSystem
realisticVehicle
Trailer
realisticTool
Do you think this mod should be featured?
NaN%
Empfehlungsrate:
noch nicht genug Stimmen