Register with:
---
or register with your emailaddress
other versions of this mod
LS15 offizielles Add-On
Am 29.10. kommt das offizielle Add-On für den Landwirtschafts Simulator
Jetzt vorbestellen...
Goldhofer mod for Farming Simulator 2013
22 Downloads today
188,357 Downloads total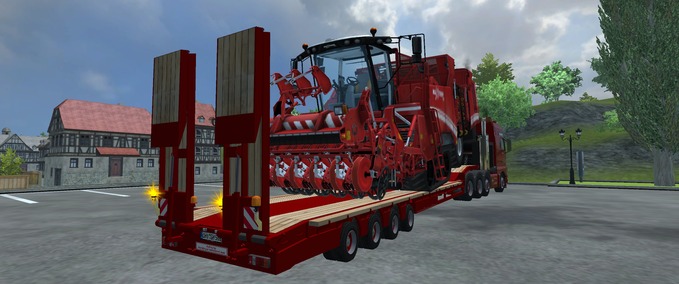 Goldhofer v 1.0 by NAS
Goldhofer Tieflader
Dieser Tieflader der Firma Goldhofer ist ja schon aus LS11 bekannt.
Dieser jedoch wurde komplett überarbeitet und ist nicht aus LS11 konvertiert.
Was wurde verändert:
Auffahrtsrampen wurden geändert
Verbreiterung wurde geändert
Brückenauffahrt hinzugefügt
Veränderte Animationen (variables absenken der Auffahrtsrampen)
Attacher verbessert (hält alle Fahrzeuge fest beim anfahren)
Auffahrverhalten verbessert (kein hüpfen oder springen mehr, zumindest bei LS13 Standartfahrzeugen)
Beleuchtungsskript V3.1.2
Neue eigenentwickelte Coronas
Neue Funktion hinzugefügt ( Auffahrtsrampen in der breite verstellbar)
Was kann alles verladen werden:
Alle Fahrzeuge die von der breite her drauf passen (man achte darauf, das die Collisionen in LS nicht immer mittig der Reifen sind!!)
Getestet wurden alle Fahrzeuge aus LS13 (der DEUTZ 7545RTS ist der einzige der NICHT verladen werden kann!)
Mods aus anderen Plattformen, Foren etc. wurden nicht getestet und dafür geben wir keine Garantie
Kosten und Kaufpreis im Shop:
Kaufpreis: 112500€ (LS Euro)
Tägliche Kosten: 15€ (LS Euro)
Dieser Mod wird exklusive bei Modhoster.de und blog.nordline-agricole-services.de angeboten, und darf auf keinem anderem Forum zum Download angeboten werden. Es gibt auch keine Freigaben auf Veränderungen irgend einer Art!

" Goldhofer Tieflader by NAS " LS13 by Nordline Agricole Team is licensed under a Creative Commons Attribuzione - Non commerciale - Non opere derivate 3.0 Unported License.
Permissions beyond the scope of this license may be available at www.nordline-agricole-services.de.
checksum:
7da7a2e192bcb507f4bf5d637b392da5
Version:
1.0 by NAS
multiplayer ready?
no
Author:
NAS ModdingSquad
price in shop:
112500 LS
name in shop:
Goldhofer STZ
description in shop:
Goldhofer Tieflader.
Tägliche Unkosten: 15 €

Modell: Werkstattleiter
Textur: Werkstattleiter
Ingame: Ordaton

Modell und Ingame: NAS-Modding Squad
Test: NAS Team
attachable
animatedVehicle
cylindered
baleAttacherNew
beleuchtung31
Goldhofer
animation
Do you think this mod should be featured?
91.81%
Empfehlungsrate:
nach 178 Stimmen