Register with:
---
or register with your emailaddress
other versions of this mod
LS15 offizielles Add-On
Am 29.10. kommt das offizielle Add-On für den Landwirtschafts Simulator
Jetzt vorbestellen...
Horsch SW 3500S + Pronto 6AS + Maistro RC mod for Farming Simulator 2011
1 Downloads today
36,347 Downloads total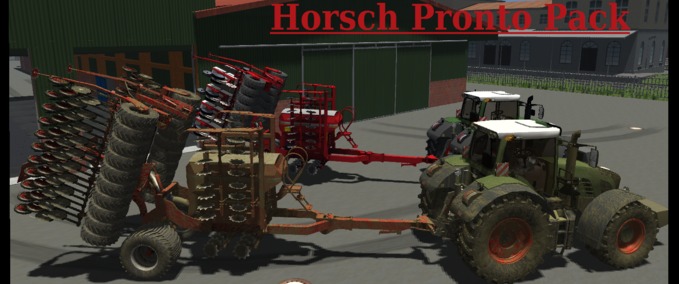 Horsch SW 3500S + Pronto 6AS + Maistro RC v 3
Who ~ 80.000 € on the LS has account, this machine can call his own. The SW 3500S Horsch drill is to place with their attachments in a position to corn, as well as standard types of fruit such as wheat, canola and barley. A robust machine with many features, but you convinced yourself of the immense clout ... ;)


Here are the details for the reconstruction phase of the V3
http://www.modhoster.de/projects/horsch-pronto-3500s-bybullgore

Other projects and mods by me:
http://www.modhoster.de/community/user/bullgore


Layout:
X button: Attachments ankoppel "CAUTION" Horsch lower before 3500 with key V
O button: transport mode on / off
Press J: seed hopper on / off
N key: Cultivators on / off
Button B: sowing machine on / off
Key point: the left hand row marker
Button. Point: the right hand lane Reisser
Button - Slash dig row marker and fold
Key rshift right shift key: Empty Fuel Tank Capacity
Elder backquote key: tramlines on / off
Ö semicolon key: Jump side row marker with a button automatically


Other:

Machine must be switched off "button B" so that you can collapse it.
Corn can be filled only in the RC Horsch Maistro.
You have to Horsch 3500 with "V" lower, only then can I "X button" to attach the attachments.
If you have an old version you had in the game, delete the keys because inputBinding.xml


Known bugs of the V3:
You have to be coupled 2x, only one of the works the Stüze Horsch 3500
You can hear the sound of filling in the MP (Global)
Then, when someone in the MP draining function that remains above Saatplane
This is what you have ;)


Generally helpful:
You should change in case of problems with the keyboard layout in the game options buttons or as I always do, delete the inputBinding.xml. This file is in the same folder as your Modsordner.
Anyone who has ever installed should be LS has, at times clear the shader_cache folder, located in the folder where is your fs_game folder. Could under some performance umsänden bring back.




Who likes the whole, rate and press the "thank" button. "Watch" does not hurt either ;)


Then a lot of fun times in testing
checksum:
bcf912fd252aa4a8ecbdfd37d8c01a0e
Version:
3
multiplayer ready?
no
Author:
Outlaw,AlesK,Bullgore,Hummel,Fin
price in shop:
24999 LS
name in shop:
Horsch SW3500 S
description in shop:
Modell: sk8mike
Textur: sk8mike
Script: Outlaw
Edit and conversion for LS11: AlesK
V1 LS09: Outlaw
V2 LS11: AlesK

V3 06/2012:

www.modhoster.de www.modhoster.com
washable, tuning, sounds, dirttextur, Store, usw. by bullgore
scripts und scripttuning mp by hummel
1:1 Carsten/Fin050808
www.modhoster.de www.modhoster.com
attachable
fillable
Trailer
powerShaft
animation
HorschSW3500S
washable
PowershaftT
HorschPronto6AS
Do you think this mod should be featured?
86.21%
Empfehlungsrate:
nach 119 Stimmen
Comments for Horsch SW 3500S + Pronto 6AS + Maistro RC