Jeep Wrangler Mod for Farming Simulator 2013
14 Downloads today
16.072 Downloads total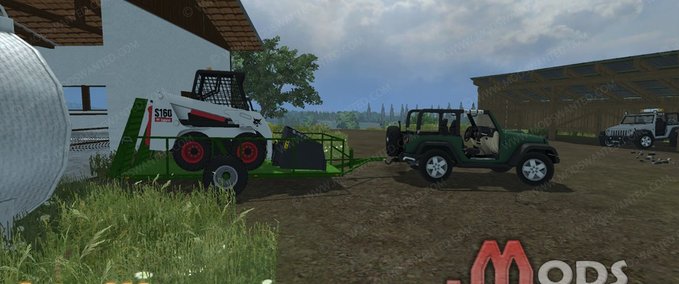 Jeep Wrangler v 1.1
Präsentiert von - 
Copyrights
Dieser MOD wurde von www.MODSWANTED.com erstellt!
Daher bitte nicht ohne Erlaubnis auf anderen Internetseiten, Foren, Downloadportalen und sonstigen Platformen hochladen, präsentieren, vertreten oder Kopieren! Das Verlinken zur Originalseite ist unter folgender URL, erlaubt. http://www.modswanted.com/index.php?site=down_jeep 
Bei Fragen, Anregungen, Problemen oder sonstigen Mitteilungsbedürftigkeiten erreicht ihr mich unter: edigeier@yahoo.de oder auf www.modswanted.com 
Viel Spaß mit diesem MOD für LS13/FS13 wünscht euch mailman! 
Respektiert die Arbeit der Modder...
This mod was created for www.MODSWANTED.com 
So please don NOT upload, copy, present oder represent this mod on other websites, forums, download-portals and other platforms without persmission!
It's permitted to link to the following original website. http://www.modswanted.com/index.php?site=down_jeep 
If you have questions, suggestions, problems or other talkativities dont hesitate to contact me via: edigeier@yahoo.de or at www.modswanted.com 
mailman wishes you much fun with this MOD for LS13/FS13! Respect the work of modders...
Installation: 
Die RAR - Datei enpacken (habt Ihr ja schon, sonst wärt Ihr nicht auf dieser Seite ;-) ), die ZIP - Datei in den Mods Ordner kopieren und im Shop kaufen.
Visit: www.modswanted.com
Changelog
V1.0 -> V1.1
Bugfixes

Flackernde Texturen auf manchen Maps
Farmer erscheint nicht mehr in der Innenansicht
Eiern des Lenkrads ausgebessert

Das Eiern, welches man jetzt noch sieht, liegt an der Form des Lenkrads. Da fast jedes moderne Lenkrad eine nicht runde, sondern leicht ovale Form hat.

Lichtstärke der Scheinwerfer erhöht
Eigene Lichtkoronas erstellt
Und einige Kleinigkeiten


V0.95 Alpha -> V1.0
Interieur

Farbwechsel
Struktur in Sitzen / Verkleidungen
Aufbesserung der Textur
Normalmap für das Interieur hinzugefügt
Chassis

Farbwechsel auf blau
Generelle Texturaufbesserung
Logos / Scheinwerfer / Nebelscheinwerfer / Blinker / Nummernschilder, usw. als Decals mit teilweise Normalmaps eingefügt.
Nebelscheinwerfer eingebaut
Nummernschild vorne hinzugefügt
Grill hat jetzt ein Gitter mit dahintersitzendem Kühler (nicht mehr durchsichtig)
Normalmap für das gesamte Chassis
Schlitz zwischen Windschutzscheibe und Chassis entfernt
und einige Kleinigkeiten mehr...
Räder

Beschriftung auf Reifenwand als Diffuse - und Normalmap hinzugefügt
Realistischere Textur mit etwas abgenutzter Lauffläche und etwas Schmutz
Ambient Occlusion Fehler beseitigt
Achsen neu ausgerichtet (Räder schlackern nicht mehr)
Motorraum / Türen / Dach

Aus Zeitmangel bin ich noch nicht dazu gekommen den Motorraum / Türen / Dach, komplett zu texturieren... erscheint in der nächsten Version. Türen und Motorhaube werden animiert sein.
Verschiedenes

Motor und Fahrwerksdaten modifiziert, Jeep fährt jetzt 100km/h
Beleuchtungsscript von Sven777b verbaut. WICHTIG: Die hinteren Blinker SIND ROT (!!), da es ein amerikanisches Modell ist.
Motormodell auf 3.6l Hubraumgeändert
Bekannte Fehler

Aus mir noch unerklärlichen Gründen, erscheinen einige Polygone schwarz... trotz "tangent = true" und ausgerichteten Normals! Falls jemand einen Tipp für mich hat, woran dies liegen kann, bitte ich sehr um eine Info.. danke!
Diese Stellen sind:

Innenraum, unter der linken Luftdüse
Rechteck an den hinteren Rohren des Überrolkäfigs
Äußere Ansätze der Heckstoßstange
Unterer Antennenansatz
Präsentiert von - 
checksum:
b49a0cf33143260b4414a853495f2ddc
Version:
1.1
multiplayer ready?
no
Author:
MODSWANTED.COM - mailman
price in shop:
25990 LS
name in shop:
Jeep Wrangler 3.6l V6
description in shop:
Ein guter, gebrauchter Jeep Wrangler mit einer 3.6l V6 Maschine und Anhängerkupplung. Perfekt für kleinere Transporte mit Anhängern.

Der Motor, der unter anderem auch in einem 2001er Mustang eingebaut wird, liefert genug Leistung, um z.B. einen Anhänge
Lightscript by Sven777b
Model: CoD, mailman
Texture / Ingame: mailman
motorized
steerable
honk
additionalLights