Krombacher_Pack Mod for Farming Simulator 2011
0 Downloads today
1.579 Downloads total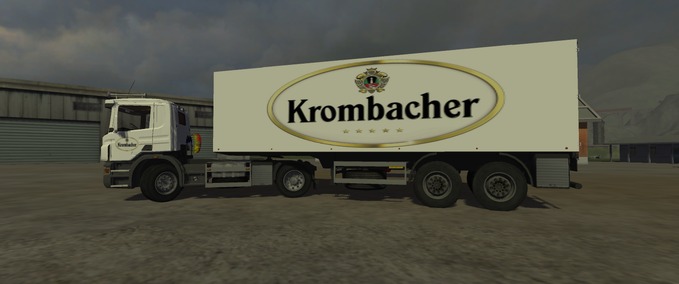 Krombacher_Pack v 1.0
Hello people :)
I'll have a Krombacher_Pack tinkered :)
I hope you like it. If you notice something does not fit what it is please write me!
Refrigerated trailers:
Loading capacity: 30500 liters
Loaded with: cheese, yogurt, butter, cottage cheese,
Bread, UHT milk, fish, beer, eggs and meat
Trucks:
Dynamic exhaust, tire dust in fields lighting V3.1 Highway Code,
additional interior rear view camera for easier hitching the trailer.
Price in Store: 132 400 €
Have fun with it!
checksum:
80c3db8bed4dc8f96b16b0c7911e1ab7
Version:
1.0
multiplayer ready?
no
Author:
Hoschi97,phiiilll
price in shop:
132400 LS
name in shop:
Krombacher_Truck
description in shop:
Diese Sattelzugmaschine ist Ihr zuverlaessiger Begleiter im
Gueternahverkehr. Durch den kleinen Wenderadius und den
geringen Verbrauch ist sie sowohl vielseitig als auch
wirtschaftlich einsetzbar. Modell von Hoschi97 skin von phiiilll
| | |
| --- | --- |
| checksum: | 80c3db8bed4dc8f96b16b0c7911e1ab7 |
| Version: | 1.0 |
| multiplayer ready? | no |
| Author: | Hoschi97,phiiilll |
| price in shop: | 86200 LS |
| name in shop: | Krombacher_Trailer |
| description in shop: | Ladevolumen: |
Features Kühlauflieger:
Animierte Parkstütze, Lenkachse hinten, animierte Türen,
Unterlegkeile, StVo-Beleuchtung V3.1.
Beladbar mit: Kaese, Joghurt, Butter, Quark, Brot, H-Milch, Fisch, Bier, Eier und Fleisch.
Ladevolumen: 30500 Liter
Preis im Shop: 86200 Euro
attachable
animatedVehicle
cylindered
fillable
Trailer
mooringblocks
Fenster
beleuchtung31