Register with:
---
or register with your emailaddress
LS15 offizielles Add-On
Am 29.10. kommt das offizielle Add-On für den Landwirtschafts Simulator
Jetzt vorbestellen...
MAN TGS agricultural BK mod for Farming Simulator 2011
1 Downloads today
15,682 Downloads total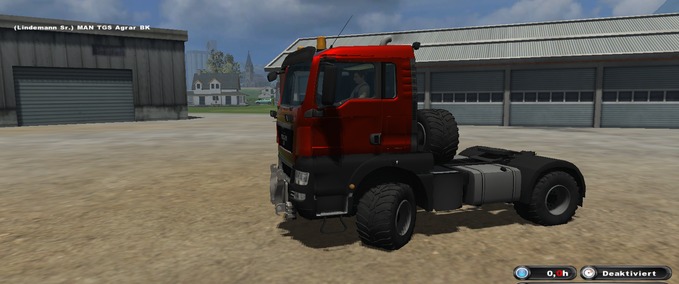 MAN TGS agricultural BK v 1.0
Das ist der MAN TGS Agrar den man hier schon von Johni 6530 kennt (Erlaubnis liegt vor).
Umgebaut wurde folgendes:
Größe wurde etwas angepasst
Schattenspiele sind weg
Textur verändert
DrivingParticleSystem kam dazu
Beleuchtung V3.1
Sattelplatte wurde angebaut wechselt mit der Heckhydraulik "KEY_KP_5"
Fronthydraulik kam dazu klappt ein und aus                              "KEY_KP_6"
Arbeitslicht vorn                                                                       "KEY_KP_7"
Arbeitslicht hinten                                                                   "KEY_KP_8"
Zweites Räder Set kam dazu Ersatzrad wechselt mit                "Key_r"
Anhängerkupplung zu verstellen hoch und runter                      "Key_v"  "Key_b"
Ich hoffe ich habe mit dem Umbau euer Interesse getroffen. Mit pos. oder neg. Meinungen habe ich kein Prob. solange sie sinnvoll sind.
So viel kann ich schon sagen, dass an einer V2 schon gearbeitet wird.
mfG
Lindeman

Der Mod kann überall zum DL gestellt werden aber nutzt den originalen Link und benennt den jetzigen Modder!
| | |
| --- | --- |
| checksum: | 07141306a73ae3e90e0cd19c23fc3211 |
| Version: | 1.0 |
| multiplayer ready? | no |
| Author: | Lindemann |
| price in shop: | 228000 LS |
| name in shop: | MAN TGS Agrar BKV01 |
| description in shop: | LS11/Umbau: Lindemann |
UrmodderVWFahrer
Ingame Johni 6530
Umbau Lindeman
motorized
steerable
hirable
aiTractor
honk
operatingHours
ESLimiter
powerShaftAttacher
moveAttacherhu
Fenster
wheelsets
beleuchtung31
drivingParticleSystem
Do you think this mod should be featured?
89.58%
Empfehlungsrate:
nach 49 Stimmen
Comments for MAN TGS agricultural BK