Register with:
---
or register with your emailaddress
LS15 offizielles Add-On
Am 29.10. kommt das offizielle Add-On für den Landwirtschafts Simulator
Jetzt vorbestellen...
Milk Trailer Water Trailer mod for Farming Simulator 2013
2 Downloads today
31,971 Downloads total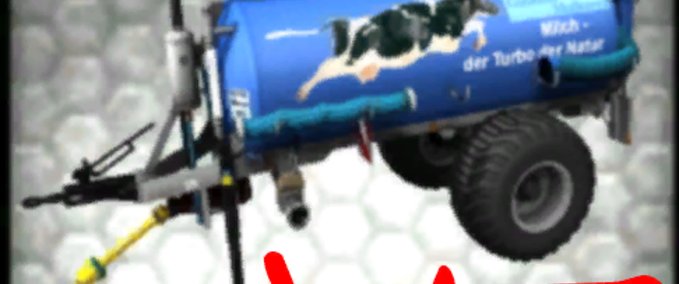 Milk Trailer Water Trailer v 5.0
Soo here is the V5 the trailer now you can bring water to the animals.
new features:
Water can be offload to the tube and the tube (see pictures)
Water can be from wells, recharge lake etc and in the water trough ( http://www.modhoster.de/mods/cowwatermod--2 ) unload
There a few new scripte were installed that you can hide the pipe and the hose and auf-/abbauen (see pictures)
The log is clean! (See picture)
Mfg. spit
checksum:
530157232f9dabc3d371ed13cba6c366
Version:
5.0
multiplayer ready?
no
Author:
Marhu/edit:Spucke
price in shop:
8760 LS
name in shop:
Milchtransporttank
description in shop:
Die 1. Funktion: Man kann Wasser vom See oder von einem Brunnen holen und vom "Cow Water Mod" bei den entspechenden Stellen abladen.
Die 2. Funktion: Damit kann Milch von den Kühen bei der Molkerei verkauft werden (an den selben Positionen an den der Mi
Das ist die v5 des trailers
attachable
animatedVehicle
cylindered
fillable
MilchTransport
drivingParticleSystem
washable
powerShaft
beleuchtungv31
waterTrailer
Trailer
schlauch
Do you think this mod should be featured?
100.0%
Empfehlungsrate:
nach 34 Stimmen
Comments for Milk Trailer Water Trailer