Milk transport Mod for Farming Simulator 2013
0 Downloads today
7.762 Downloads total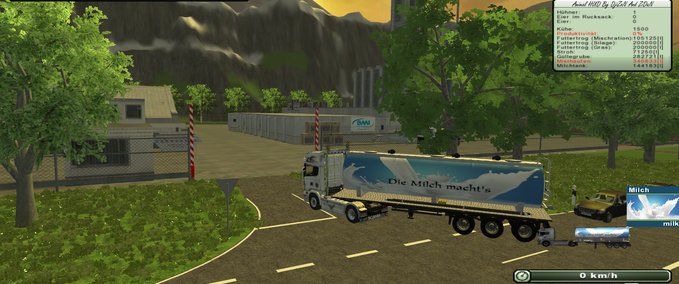 Milk transport v 1 ohne Dolly's
Here by popular request of the milk truck without Dolly's
Who wants the Dolly's, which they found here:
http://www.modhoster.de/mods/milchtransporter-mit-dolly

Your order can pick up the milk and dairy bring himself.
Loaded to the point where the milk truck picks up the milk and unload (sell), where the milk truck starts.
Trailer with tail lights, turn signals, side lighting, warning light, brake lights, etc
Moreover, a level indicator is installed, so you know even in uncoupled state, even if milk is in the trailer.
Fill an alternative to milk transport and sell the milk is available here:
checksum:
90b64e7ddd815fe39a08f18fed209cc2
Version:
1 ohne Dolly's
multiplayer ready?
no
Author:
GE-Mapping
price in shop:
49900 LS
name in shop:
Milchauflieger
description in shop:
Zum transportieren und verkaufen von Milch.

Fassungsvermögen: 60000 Liter
Trailer-Base by dimanix
Milch-Mod Skripte by Mahru
attachable
animatedVehicle
cylindered
fillable
MilchTransport
beleuchtung31
mooringblocks
Support
Do you think this mod should be featured?
NaN%
Empfehlungsrate:
noch nicht genug Stimmen
Coments for Milk transport