Register with:
---
or register with your emailaddress
LS15 offizielles Add-On
Am 29.10. kommt das offizielle Add-On für den Landwirtschafts Simulator
Jetzt vorbestellen...
Mosbach mod for Farming Simulator 2013
1 Downloads today
16,600 Downloads total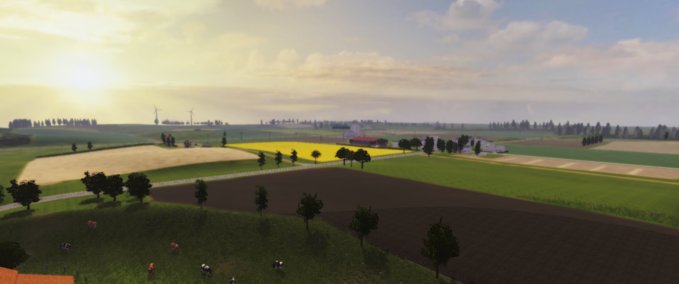 Mosbach v 1.0
Hiermit stell ich die Mosbach offiziel für den Landwirtschafts Simulator 2013 zum Download.
Zuerst möchte ich klarstellen ,das die Map nicht perfekt ist und auch noch diverse Fehler schiebt.Trotzdem bin ich der Meinung,das man sie ordentlich spielen kann und sich der dowload lohnt!

Die Map ist konvertiert und wurde in Ls13 von fraengersxD gebaut!

Die Erlaubnis liegt vor!

Feautures der Map

-kleine bis mittelgroße Felder

-funktionierende Biogasanlage

-die Ortschaften Hauslach und Mosbach

-Kühe werden im Stall gefüttert

-Kuhweide

-Landhandel

-2 Höfe

-Windräder

-zahlreiche Details

-gut ausgebautes Straßennetz

-zahlreiche Silos


-Es wurde mit Absicht kein Händer verbaut ,da es schließlich nicht in jedem Ort   einen Landmaschinenhändler gibt und die Map real nachgebaut wurde!

=Die Map läuft auch auf schlechte PC´s


Ich bedanke mich bei Moddern deren Objekte ich zusätzlich verbaut habe!

Die Map darf nur mit dem orginalen DL-Link auf Anderen Seiten/Foren zum DL gestellt werden!

Es ist nicht erlaubt die Map zu verändern und neu Hochzuladen!

Texturen dürfen nicht ohne Erlaubnis verwerndet werden!

MFG Dustin

| | |
| --- | --- |
| checksum: | 2f53870285176bbb70ac976321ab0a13 |
| Version: | 1.0 |
| multiplayer ready? | no |
| Author: | FrangersxD konvertiert by GurkenDingo! |
| price in shop: | LS |
| name in shop: | Mosbach_Ls13 |
| description in shop: | Das ist die Mosbach für Ls13 |
Ls11=fraengersxD(LuSteiner)

Ich bedanke mich bei den Moddern deren Objekte ich verbaut habe!
Do you think this mod should be featured?
93.75%
Empfehlungsrate:
nach 34 Stimmen