Claas Trends App
Das kostenlose Info Magazin von Claas für iOS und Android.
Mehr Infos...
Panien PW 18 10E mod for Farming Simulator 2013
1 Downloads today
31,866 Downloads total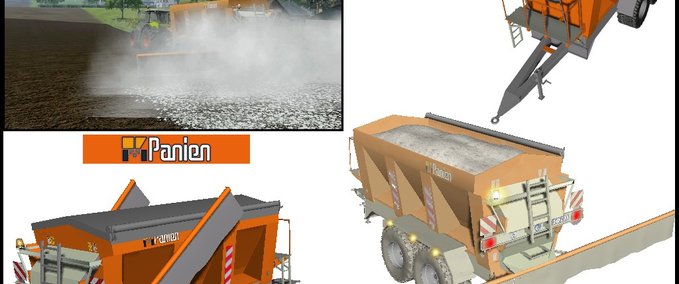 Panien PW 18 10E v 1.1 Kalk
To the spreader you need a card with lime installation script above using http://www.modhoster.de/mods/gulle-und-mist-mod-ls2013
Culture accepted: Fertilizer lime
Arm Drain: key x
Tarpaulin: key num 7
Washable
Capacity: 10000

LuxFarm
Map private
checksum:
a476e94cc66193ea01bd71290096052e
Version:
1.1 Kalk
multiplayer ready?
yes
Author:
LUXFARM
price in shop:
25000 LS
name in shop:
Panien PW 18-10E
description in shop:
Culture accepted: Fertilizer kalk

Arm Drain: Schlüssel x
Tarpaulin: Schlüssel num 7
Washable

LuxFarm-Ls Modding
http://www.luxfarm-ls-modding.com
LuxFarm
attachable
animatedVehicle
cylindered
fillable
Sprayer
manureSpreader
foldable
Trailer
beleuchtung31
Plane
washable
Do you think this mod should be featured?
96.36%
Empfehlungsrate:
nach 57 Stimmen
Comments for Panien PW 18 10E