Register with:
---
or register with your emailaddress
other versions of this mod
LS15 offizielles Add-On
Am 29.10. kommt das offizielle Add-On für den Landwirtschafts Simulator
Jetzt vorbestellen...
Scania R730 Topline mod for Farming Simulator 2013
5 Downloads today
54,517 Downloads total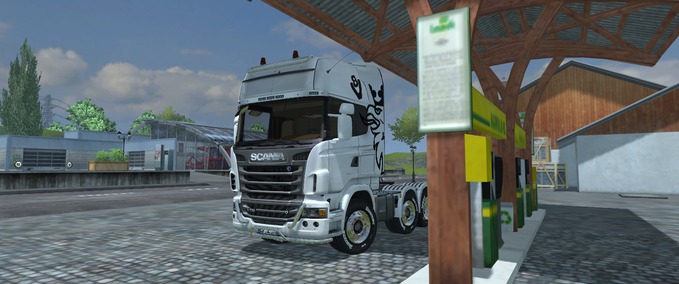 Scania R730 Topline v 2.2
Hallo zusammen,
ja, ich weis, es gibt schon eine menge LKWs hier zu LS13. Aber ich wollte meinen eigenen kreieren. Vorallem einen ohne viel Schnickschnack und Fehlerfrei muss er sein.
Nun, hier ist mein erstes Werk für den neuen Landwirtschafts Simulator 2013:
Ein Scania R730 Topline in der Ausführung 6*4+2
Konvertiert wurde er von mir aus dem aktuellen ETS2-Game und dient nur dem Zweck den Kroeger SRB35 Sattelauflieger ziehen zu können. Alle bisherigen Sattelauflieger die man sich herunterladen kann, habe ich nicht getestet (mir reicht der Standart Auflieger völlig).
Der Truck hat eine schöne "Standart-Glanz" Lackierung und verschiedene Chromteile bekommen.
Ebenso wurde das Fahrwerk und Verhalten eines LKW entsprechend angepasst. Das bedeutet, das der Scania auch "richtig" einfedert. Vorder und Mittelachse lenken und entgegen der Bezeichnung besitzt der Truck
Allrad Antrieb.
Standartbeleuchtung ohne überflüssige Zusatzlampen ist vorhanden und reicht für den mod denke ich auch alle mal aus, da sonst die gesammte Optik versaut wird.
Soweit ich das ganze getestet habe wurden keinerlei Einträge in die LS13 Log-Datei eingeschrieben. Auch nicht in Verbindung mit dem Abfahrhelfer.
Sollten wiedererwarten doch Fehler eingeschrieben werden, bitte erst die eigenen mods überprüfen oder den LKW zuerst als allein stehenden Mod testen. 
Im übrigen weis ich nicht, ob das Pack so wie es jetzt ist  MP tauglich ist, da ich kein Multiplayer nutze. Somit stufe ich dieses Modpaket als Single-Player-Mod ein.
Wem der Truck gefällt möge Spass damit haben. Wem er nicht gefällt, möge ihn nicht downloaden und auch keine unkreativen Kommentare ablassen, denn diese führen zu nichts.
checksum:
2eddc2c5979646df8045ec921b4c8a6e
Version:
2.2
multiplayer ready?
no
Author:
SpeedySC1978_20_11_2012
price in shop:
314000 LS
name in shop:
Scania R730 Topline
description in shop:
Wenn Sie den ultimativen Allzweck-Lkw suchen – Scania bietet absolute Vielseitigkeit.
Der R730 dient als Zugmaschine fuer den Kroeger SRB35 Sattelauflieger
Original ETS 2 (SCS Software)
Beleuchtungs Script v3.1.1 von Sven777b


motorized
steerable
hirable
aiTractor
beleuchtung31
honk
Do you think this mod should be featured?
96.43%
Empfehlungsrate:
nach 85 Stimmen
Comments for Scania R730 Topline