Register with:
---
or register with your emailaddress
LS15 offizielles Add-On
Am 29.10. kommt das offizielle Add-On für den Landwirtschafts Simulator
Jetzt vorbestellen...
Scania R730 V8 mod for Farming Simulator 2013
7 Downloads today
88,723 Downloads total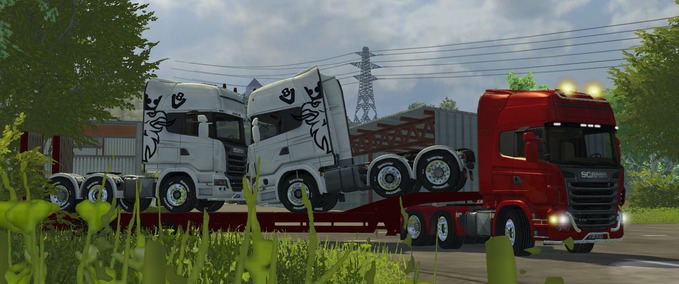 Scania R730 V8 v 2.2
Hallo zusammen,
aufgrund des mehrfachen wunsches überlasse ich Euch meinen Scania R730 Topline nun auch in
der "Elegant" Version. Bedeutet, der LKW wurde in Metalic Rot lackiert und hat auch die Standartbereifung aufgezogen.
Was sich nicht geändert hat, sind sämtliche werte des Trucks. Er ist vom Fahrverhalten und Austattung identisch mit dem Scania R730 Topline.
Grund warum ich nicht einfach nur eine Skin-Datei hochgeladen habe ist der, das es erstens 5 verschiedene Dateien sind und zweitens der Truck (gehe ich jedenfalls von aus) auch im Multiplayer genutzt wird.
Auch die Beschreibung zum Scania Flagschiff entnehmt Ihr bitte hier:
http://www.modhoster.de/mods/scania-r730-topline
---
Soweit ich das ganze getestet habe wurden keinerlei Einträge in die LS13 Log-Datei eingeschrieben. Auch nicht in Verbindung mit dem Abfahrhelfer.
Sollten wiedererwarten doch Fehler eingeschrieben werden, bitte erst die eigenen mods überprüfen oder den LKW zuerst als allein stehenden Mod testen. 
Wem der Truck gefällt möge Spass damit haben. Wem er nicht gefällt, möge ihn nicht downloaden und auch keine unkreativen Kommentare ablassen, denn diese führen zu nichts.
!! Bitte verwendet den originalen DL-Link. Alles andere bedarf meiner Genehmigung und wird überprüft.
Sollte dies nicht geschehen, werden entsprechende Dateien nach Rücksprache mit dem jeweiligen
DL-Hoster gelöscht !!
| | |
| --- | --- |
| checksum: | 85ea3ed1aa683618714690ba022a2742 |
| Version: | 2.2 |
| multiplayer ready? | no |
| Author: | SpeedySC1978_20_11_2012 |
| price in shop: | 314000 LS |
| name in shop: | Scania R730 Topline |
| description in shop: | Wenn Sie den ultimativen Allzweck-Lkw suchen – Scania bietet absolute Vielseitigkeit. |
Original ETS 2 (SCS Software)
Beleuchtungs Script v3.1.1 von Sven777b
Skin by SpeedySC1978
motorized
steerable
hirable
aiTractor
beleuchtung31
honk
Do you think this mod should be featured?
98.8%
Empfehlungsrate:
nach 84 Stimmen
Comments for Scania R730 V8