Register with:
---
or register with your emailaddress
LS15 offizielles Add-On
Am 29.10. kommt das offizielle Add-On für den Landwirtschafts Simulator
Jetzt vorbestellen...
Peterbilt 379 Road Train mod for Farming Simulator 2013
1 Downloads today
32,034 Downloads total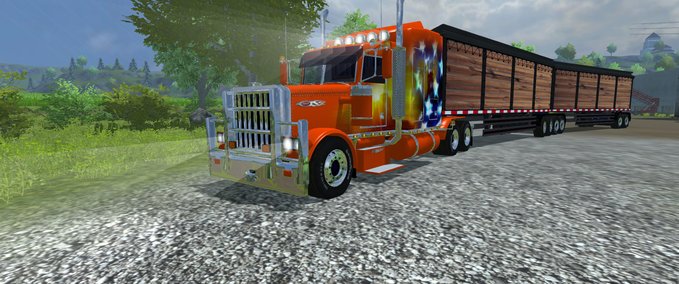 Peterbilt 379 Road Train v 1.0
Not much to tell you simply look the part of

have fun

oh yeah you have to unzip the rar file

Rebuilding, reskinning and bring back free download requires a separate release.
The set for download on other websites is only possible with verheriger permission!



checksum:
899cf42439a2325198d77ac6846c6b1b
Version:
1.0
multiplayer ready?
no
Author:
LittleArti and Quakster and harry
price in shop:
225000 LS
name in shop:
Peterbilt 379
description in shop:
Modding: Quakster
textur: Little Arti
Hilfeleistungen: Harry
checksum:
899cf42439a2325198d77ac6846c6b1b
Version:
1.0
multiplayer ready?
no
Author:
Little_Arti,Unicorn0007 and Mark44
price in shop:
35504 LS
name in shop:
Roadtrain Vorne
description in shop:

Skin:Little_Arti
Bau:Little_Arti

Peterbild_379

Modell: Quakster/Little_Arti
Texturierung:Little_Arti/Quakster
Ingame:SCANIA POWER/Little:Arti
Hilfestellung: Harry

AufliegerPack

Modell:Little_Arti/Quakster
Texturierung: Little_Arti
Ingame: Mark44/Little_Arti
Hilfestellung : Harry und Unicorn0007

Ich Bedanke mich bei:

Eastside, Brummi, Bigblue, Bummi für Betatest

Unicorn0007, Harry, Eastside und gerry für Hilfestellung

Nach dem mich ScaniaPower darauf aufmerksam gemacht hat das er eigentlich die Urxml/Modesk und die Urscripte
geschrieben hat bedanke ich mich nochmals in aller form für seine vorarbeit und die nachträgliche freigabe seiner scripte



attachable
animatedVehicle
cylindered
fillable
Trailer
beleuchtung31
LockSteeringaxles
wheelParticleSpec
tipperCover
Do you think this mod should be featured?
88.52%
Empfehlungsrate:
nach 64 Stimmen
Comments for Peterbilt 379 Road Train