Register with:
---
or register with your emailaddress
LS15 offizielles Add-On
Am 29.10. kommt das offizielle Add-On für den Landwirtschafts Simulator
Jetzt vorbestellen...
Transport professionals Pack mod for Farming Simulator 2013
0 Downloads today
47,668 Downloads total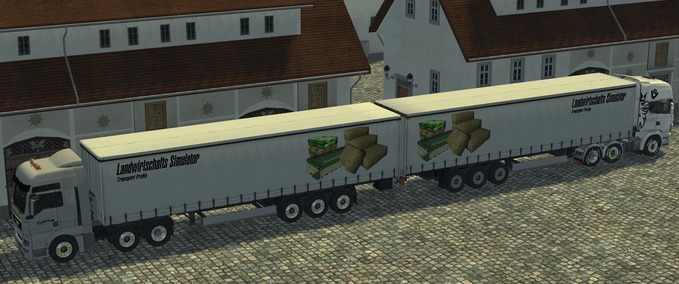 Transport professionals Pack v 2
Hallo zusammen,
einige User, die das Vorgänger Pack geladen hatten, äusserten den Wunsch, das der Auflieger eventuell etwas breiter sein könnte, wegen der Wolle Paletten.
Ausserdem stand der Wunsch im Raum das diese Paletten doch etwas standfester sein könnten, da sie manchmal hin und her rutschen würden (Dieses Rutschen trat bei mir auch auf. Aber erst ab Tempo 50+ km/h).
Deshalb ist auch ein 2. Auflieger in dem Pack gelandet, da ich mich nicht entscheiden konnte zwischen der einen und der alternativen Variante um "Objekte" fest zu schnallen.
Also habe ich mich dazu hinreissen lassen und dem ein oder anderen Wunsch aus den Kommentaren der V1.1 nach zu kommen und präsentiere nun die V2 der 
Landwirtschafts Simulator - Transport Profis
Was geändert wurde:
Fahrdynamik wurde von der V1.1 übernommen
Truck:
Motor- und Hupensound 
Auflieger Variante 1 (baleAttacher.lua):
Modell etwas verbreitert, damit auch 2 Wolle Paletten nebeneinander passen. 
Wegen der Verbreiterung wurden ein paar Kollisionen geändert
Attacher Punkte ausgerichtet
"dynamicAmount" Kolli angepasst
Der Auflieger hällt

fast

alles an Geräten, Paletten und Ballen fest. Fahrverhalten sollte der Ladung entsprechend angepasst werden, sonst gibt das nix
Auflieger Variante 2 (ubt.lua):
Auf-/Abladen von LS13 Standart Ballen (13 Rund & 35 Quader)
Auf-/Abladen Aufladen von 14 Wollpaletten

Unterscheidet sich von Variante 1 nur durch die Felgen (kein Chrom)

Alle weiteren Änderungen entsprechen der Variante 1 dieses Aufliegers
Sollten ein paar von euch der Meinung sein: "das ist nix für mich", den bitte ich bei der V1.1 dieses Packs zu bleiben.
Hier der Link:  http://www.modhoster.de/mods/transport-profis-pack
Ich weise darauf hin (wie bei meinen beiden Scanias und der V1.1 dieses Packs) es handelt sich hier um eine LKW-Trailer Kombination. Übertriebenes fahren/nutzen wird somit InGame mit entsprechendem feetback belohnt.
Soweit ich das ganze getestet habe wurden keinerlei Einträge in die LS13 Log-Datei eingeschrieben. 
Sollten wiedererwarten doch Fehler eingeschrieben werden, bitte erst die eigenen mods überprüfen oder das Pack zuerst als allein stehenden Mod testen. 
Wem das Pack gefällt möge Spass damit haben. Wem es nicht gefällt, möge dies nicht downloaden und auch keine unkreativen Kommentare ablassen, denn diese führen zu nichts.
!! Bitte verwendet den originalen DL-Link. Alles andere bedarf meiner Genehmigung und wird überprüft.
Sollte dies nicht geschehen, werden entsprechende Dateien nach Rücksprache mit dem jeweiligen
DL-Hoster gelöscht !!
checksum:
2b555161e7bd9926c080754e48368faf
Version:
2
multiplayer ready?
no
Author:
SpeedySC1978_08_12_2012
price in shop:
198000 LS
name in shop:
MAN TGX 18.680
description in shop:
Die MAN Truck Lösungen für den Nah- und Verteilerverkehr erfüllen alle Wünsche nach effizienten
Transportlösungen im innerstädtischen und regionalen Einsatz.
Original ETS 2 (SCS Software)
Beleuchtungs Script v3.1.2 von Sven777b
ESL-Limiter V3 Script von Manuel Leithner (SFM Modding)
UBT Script: Original script: d47 strawmod / woolpallet ready: Steve007
motorized
steerable
hirable
aiTractor
beleuchtung31
wheelParticleSpec
drivingParticleSystem
ESLimiter
honk
attachable
animatedVehicle
cylindered
fillable
Trailer
baleAttacher
dynamicMountAttacher
animation
kroneProfi
ubt
Do you think this mod should be featured?
91.43%
Empfehlungsrate:
nach 71 Stimmen
Comments for Transport professionals Pack