Register with:
---
or register with your emailaddress
LS15 offizielles Add-On
Am 29.10. kommt das offizielle Add-On für den Landwirtschafts Simulator
Jetzt vorbestellen...
U.S. FEETLOT WITH BETA BGA mod for Farming Simulator 2011
0 Downloads today
6,951 Downloads total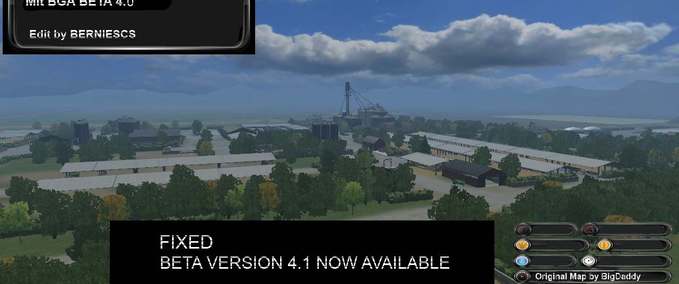 U.S. FEETLOT WITH BETA BGA v 4.0
Hallo Zusammen,
hier meine 3te Version der US FEETLOT MAP
Ist immer noch in der BETA-Version.
Einige Fehler wurden behoben und die Log sollte sauber bleiben.
Zudem wurden mehrere neue Objekte eingefügt.
- Man kann am Hof nun alle Früchte lagern und auch Verkaufen
- Ein neuer dynamischer Silageberg
- Etwas andere Fahrsilos
- Rund um die BGA wurden neue Hallen hinzugefügt
- Eine Tankstelle wurde eingefügt
- Ein weiteres MEGA-Silo im Osten wurde hinzugefügt
- die Map wurde etwas verkleinert.
- Berge wurden eingefügt
.... und der gesamte Hof etwas gepimpt :-)
Hoffe diese Version gefällt euch.
Ich möchte mich bei BigDaddy für seine GrossKernLand Map und bei Manuel für seine BGA bedanken.
Zudem bedanke ich mich auch bei allen Moddern deren Objekte ich benutzt habe.
 ( Möchte hier jemand genannt werden bitte PM an mich )
Benötigt werden :
Wichtig:-------------------------------------------------------------------------------
MapBGASilo.zip und MapBGA.zip werden benötigt!!
Man kann sie bei Planet LS downloaden (www.planet-ls.de)
MapDoortrigger
-----------------------------------------------------------------------------------------
Wünsche euch viel Spass
Lg Bernie
P.S. Ich würde mich auch über Bilder von eurem Spiel und einer Bewertung gut oder schlecht freuen.
checksum:
a333cf93bded27bd7db46ae64c97e3fa
Version:
4.0
multiplayer ready?
no
Author:
Zippo
price in shop:
159500 LS
name in shop:
Porsch911GT3
description in shop:
Modell SKP gallery
skin audiklaus
Bigdaddy
Manuel
Do you think this mod should be featured?
NaN%
Empfehlungsrate:
noch nicht genug Stimmen
Comments for U.S. FEETLOT WITH BETA BGA