Register with:
---
or register with your emailaddress
LS15 offizielles Add-On
Am 29.10. kommt das offizielle Add-On für den Landwirtschafts Simulator
Jetzt vorbestellen...
US_FEETLOT_BGA_BETA_ mod for Farming Simulator 2011
3 Downloads today
20,871 Downloads total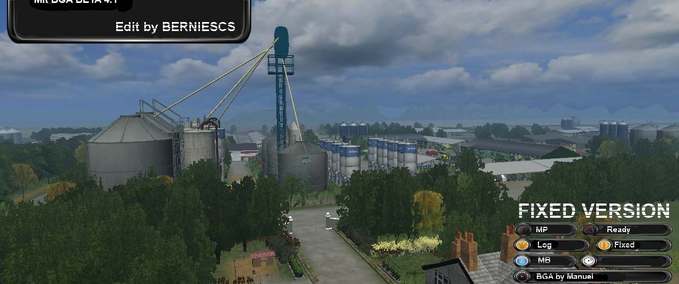 US_FEETLOT_BGA_BETA_ v 4.1FIXED
Hallo Zusammen,

wie versprochen die neuste Version 4.1
-  Physiks-Fehler behoben
-  CallStacks behoben
-  Collison behoben
-  Neuen Silageberg (dynamisch) eingefügt
- Mehr Standartfahrzeuge erhältlich ( keine Mods)
Log sollte nun sauber sein.
Tipp Verkehr ausschalten. Wie das geht findet ihr via goggle
Hoffe diese Version gefällt euch.
Ich möchte mich bei BigDaddy für seine GrossKernLand Map und bei Manuel für seine BGA bedanken.
Zudem bedanke ich mich auch bei allen Moddern deren Objekte ich benutzt habe.
 ( Möchte hier jemand genannt werden bitte PM an mich )
Benötigt werden :
Wichtig:-------------------------------------------------------------------------------
MapBGASilo.zip und MapBGA.zip werden benötigt!!
Man kann sie bei Planet LS downloaden (www.planet-ls.de)
MapDoortrigger
-----------------------------------------------------------------------------------------
Installation. Die Map hat noch den alten Namen  Ergo die alte solltet Ihr diese bereits verwenden wird beim Einfügen in den Modordner überschrieben. Somit kann man in diesem Fall seinen alten Spielstand weiter verwenden.
Die Mods auf den Bildern stammen alle von Modhoster. !
P.S. Ich würde mich auch über Bilder von eurem Spiel und einer Bewertung gut oder schlecht freuen.
Auch würde mich im Falle einer schlechten Bewertung der Grund hierfür interessieren.
Sonst kann man ja nix verbessern ;-)
Wünsche euch viel Spass
Lg Bernie
PS DIE PDA ist immer noch die von Gross Kern Land und somit noch nicht angepasst.
| | |
| --- | --- |
| checksum: | 376a23ed1be4a2f468411b03a8cd4562 |
| Version: | 4.1FIXED |
| multiplayer ready? | no |
| Author: | GIANTS Software GmbH |
| price in shop: | LS |
| name in shop: | US_FEETLOT_BGA_BETA_4_0 |
| description in shop: | US_FEETLOT_BGA_BETA_4_0 basiert auf Gross Kern Land einer 4-fachen Map und bietet 4 weitere Fruchtsorten. |
BiggDaddy für seine Gross-Kern_Land
Manuel für seine BGA
Do you think this mod should be featured?
76.0%
Empfehlungsrate:
nach 26 Stimmen
Comments for US_FEETLOT_BGA_BETA_