Register with:
---
or register with your emailaddress
LS15 offizielles Add-On
Am 29.10. kommt das offizielle Add-On für den Landwirtschafts Simulator
Jetzt vorbestellen...
Zunhammer_by_dani95 mod for Farming Simulator 2011
0 Downloads today
15,199 Downloads total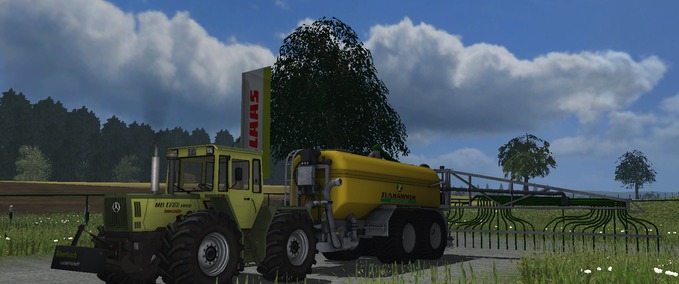 Zunhammer_by_dani95 v 1.0
Hallo, will heute mein erstes Modell zum Download freigeben.Das Fass ist ein umbau vom Rekordia XXL von daniel11.Bedanken will ich mich bei daniel11, der mir die Erlaubnis gegeben hat das Fass zum DL zu stellen.Großer dank geht auch an Agrotron 155 für die genialen Reifen.Noch ein dankeschön an JanO45 für den einbau des manuellen Ankupell Script für Zapfwelle und Hydraulikschläuche.Credits:Modell: daniel11, dani95Textur: dani95Script/Ingame: sven18koehler, JanO45Ready for: Singleplayer & MultiplayerInformationen:LS-Preis: 135990 €Capacity: 17000 Liter.zip Größe: 8,15 MB Funktionen: Zwangslenkung animierter Saugarm 15 Meter Schleppschlauch Exaktverteiler animierter Deckel um mit Galgen befüllen zu können (NUM_9) Zapfwelle und Hydraulikanschlüsse müssen manuell angehängt werden Lichtscript v 3.1 Rechte:Das Mod(-Paket) darf auch auf anderen Seiten zum DL angeboten werden, aber nur unter Verwendung des DL-LINK für alle anderen Seiten!Das Mod(-Paket) darf ohne Zustimmung des Ur-Modders (zufinden auf http://lws11modding.cwsurf.de) nicht verändert und neu hochgeladen werden!This Mod(-Pack) can be released on other Websites, but only by using the DL-LINK for other sites!It is not allowed to edit this Mod(-Pack) and reupload it without the permission of the Modders. You can find the Modder at http://lws11modding.cwsurf.de.Cette Mod(-Pack) peut libérer à vos Homepages mais seulement avec utiliser l'original lien de cette Mod![/b]DL Link für andere Foren: http://lws11modding.cwsurf.de/index.php?page=DatabaseItem&id=5Wünsche euch viel Spaß mit dem Mod.Nocheinmal vielen dank, die mich bei dem Projekt unterstüzt haben. DANKE!!!Mit freundlichen Grüßendani95
checksum:
0430b44dd2e0651e37a7c23f668b27ed
Version:
1.0
multiplayer ready?
no
Author:
price in shop:
135990 LS
name in shop:
Zunhammer
description in shop:
Modell/Textur: Daniel11, dani95
Script/inGame: sven18koehler
TowBall By SFM
Powered by lws11modding.cwsurf.de
daniel11, sven18koehler, dani95, Agrotron 155, Avenzio
attachable
towBall
animatedVehicle
cylindered
fillable
Sprayer
animation
rekordia
beleuchtung
mouseControlsVehicle
powerShaft
Fenster
Do you think this mod should be featured?
98.51%
Empfehlungsrate:
nach 69 Stimmen
Comments for Zunhammer_by_dani95