Agrotron 6190 TTV
V 3.0 mod for Farming Simulator 17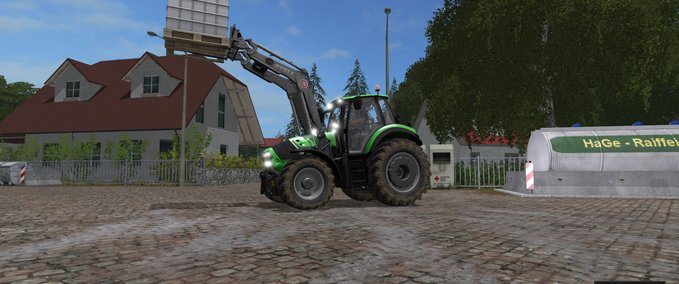 description
featured
This is the Agrotron 6190 TTV from SiiD & Marlin, known from LS15.
Features:
Interactive control (doors, rear window, roof hatch, roller blind, bonnet, ambient light in red, cabin light, daytime running lights & windscreen wipers)
Driver's door open from the outside (with cabin light)
Fender can be dismantled
Lower front removable
cab suspension
Configurable at purchase:
standard tires
wide tires
Pflegebereifung
Power: 193 hp
Daily charge: 100 €
Purchase price: 156000 €
Praise and criticism are always welcome as always.
I would be happy about a vote and a thank you. (It's a damn lot of work and time in this mod)
Now I wish you much fun with my favorite deutz ;-)
Credits
Modell: Marlin 3D
Textur: Marlin 3D, SiiD
Script:  SiiD, Pawulon
Idee / Konzept:  Marlin, SiiD
Tester: Bauer 450, Beckxx
Sonstige: Beckxx (konvertieren, umbauen, anpassen)
changes
21 Jul 09:59

Version 3.0

Radgewichte für Standartreifen konfigurierbar
Radgewichte für Breitreifen konfigurierbar
Indikatoren für Blinker im Tacho verbaut
Indikatoren für Abblendlicht und Arbeitsscheinwerfer in der rechten B-Säule verbaut
Zulassungsscript verbaut

15 Jul 12:17

Version 2

Coronas verbessert
Texturen verbessert
Des Farmers Arm besser positioniert
Frontladerkonsole hinzugefügt
dynamicHoses verbaut
ergänzt

14 Jul 11:52

Version 1

Do you think this mod should be featured?
Unterstütze den Entwickler!
Jetzt mit PayPal spenden
}