Gehl 4835 SXT Skidsteer
V 1.0 mod for Landwirtschafts Simulator 2013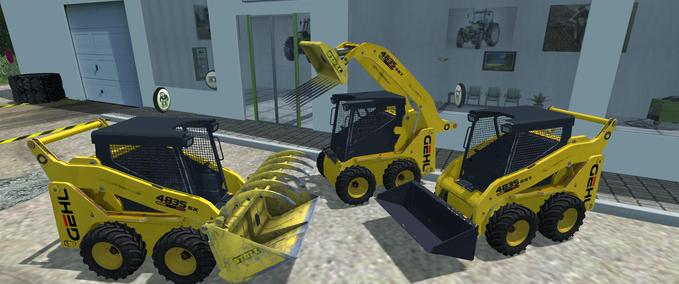 description
featured
Hier haben wir einen sog. SkidSteer Loader diesmal von der Firma der GEHL Baujahr 2004. Er wurde von "PeterJ" inGame gebracht und adaptiert. Die Freigabe für unsere Änderungen am Mod liegt vor. Ein Dankeschön an ihn, daß wir seinen Mod auch für LS13 rausbringen dürfen!
Zur enthaltenen Standard Schaufel haben wir ihm noch aus dem Stoll-Set von Kreters-Island zwei Tools dazu gepackt
1x Silage Greifschaufel
1x Mistgabel
Nochmal ein großes Dankeschön an Kreters-Island, dass wir seine Tools zu dem Skidsteer dazupacken durften.

Folgendes wurde an diesem SkidSteer verbessert:
- Original Sound verbaut
- Dynamischer Abgasrauch
- Drehzahl erhöht sich beim Verwenden der Hebeeinrichtung
- Arbeitsdrehzal manuell einstellbar (Taste 5)
- Fahrverhalten an das Original angepasst (Kippgefahr, wenn man ihn mit angehobener Schaufel zu schnell bewegt!)
- Manueller Motorstart
 Credits:
- Sound: Knechti

- Convertierung und Fahrverhalten: fin050808
- Zusatz Tools: Kreters-Island

 Achtung: Die herunter geladene Datei muss "nicht" entpackt werden!


******************************************************************
Es ist verboten dieses Set auf anderen Servern zum Upload zu bringen!!

FORBIDDEN TO MAKE UPLOAD ON OTHER SERVER, IF NOT OBSERVED THE CONDITIONS OF LICENSE. And 'FORBIDDEN TO DISTRIBUTE THE MOD SO DIFFERENT FROM THE ORIGINAL

FILE WITHOUT YOUR INSTALLER! FOR THE BEST COMPATIBILITY IN MULTIPLAYER GAMES PLEASE KEEP ORIGINAL DOWNLOAD LINK
Credits
fin050808
Kreters-Island
PeterJ
Knechti
Reifen: Modelleicher
Files
checksum:
7119d7e5f4ed39a85017abdbad04098f
Version:
1.0
multiplayer ready?
no
Author:
PeterJ
price in shop:
12000 LS
name in shop:
Gehl 4835 skidsteer
description in shop:
Model: Giants
Ingame: PeterJ
Skin: jonjunk
Features: jonjunk
www.ls-uk.info

Do you think this mod should be featured?