Grünfelder Land
V 1.4 beta mod for Farming Simulator 19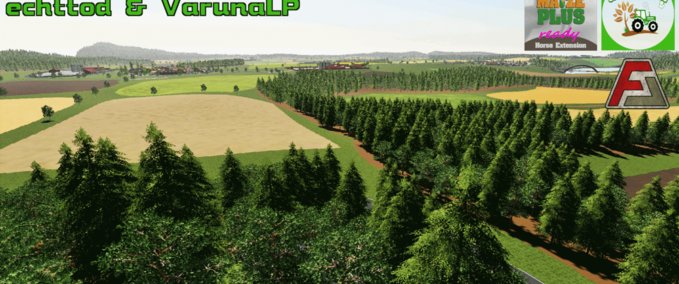 description
### EN
For singleplayer please modify the included savegame and upload it to the server 
If you play the map alone you don't need to pay attention to anything special.
For the 1.4 a NEW savegame is needed.
From the old savegame in the items.xml you can save only the silo states, the other data like productions + their 
Filling volume can be taken along as well as the vehicles, the farms, the farmlands have to be adapted 
If you have any questions you can ask for help in the discord
Welcome to the Grünfelder Land!!!!!
We offer 145 fields, 18 forests, 5 villages and 2 cities. 
a "few" Factories and Productions
There are a few small place's and items hidden on the map that offer breathtaking views and funny implications .
- New fruits
- Maize Plus FE/HE ready - Credits to the Farming Agency for permission to use the HorseExtension Updates.
- Seasons ready (finally you can use Maize Plus and Seasons at the same time.)
- New Global Company Factories, reworked existing factories, adjusted volumes and such.
- New wood product storage at the Wood Works.
- Central pallet storage facility
- Enhanced some Farms, adjusted volumes and more.
- Overhauled GreenHouses.
- Too many bugfixes and **new features** to list them all.
**! globalCompany required**
**! For flawless MP plz:** 
you **have to create 8 Farms** and 
buy yard 1 with the first farm you create
buy yard 2 with the second farm you create and so on !
**this is a required step to have the FarmIds working as intended!**
please keep in mind this is work in progress, and bugs and errors are expected as well as being worked on. we try to keep the number of errors low tho ;) 
bug reports are welcome!
Credits
Credits:
Hallo an alle Downloader,
Idee / Konzept: VarunaLP & Echttod
hiermit möchten wir uns bei allen Moddern und Supportern bedanken! Für die Freigaben der Gebäude, Fabriken oder der gleichen.


Das wäre der DeQX der uns die Freigabe für die Fabriken gegeben hat!


Der GMCW von dem wir ein paar Gebäude benutzen dürfen!


HeaDDY von dem wir uns die Werbeschilder geholt haben!


Maurice Spencer


M+ FE/HE ready - Credits to the Farming Agency for permission to use the HorseExtension Updates


Und natürlich auch ein dickes DANKE an alle nicht genannten Modder!
Fehlt dein Name in denn Credits? - Dann sag uns bitte einfach bescheid.
Grosser Dank geht auch an unser kleines aber feines Testteam.
Im Detail an Malonation, DarkRazeyYT und tigerfarm und den Rest...
Mit freundlichen Grüssen Euer
Grünfelder Land Team
echttod & VarunaLP
changes
26 Sep 01:22

Version 1.4 beta

- neue Früchte

- M+ FE/HE ready - Credits to the Farming Agency for permission to use the HorseExtension Updates

- Seasons ready

- neue GC Produktionen, bestehende überarbeitet, angepasste Volumen

- neues Holzproduktionslager

- Zentrallager

- überarbeitete Höfe, angepasste Volumen etc.

- bugfixes und neue features

10 Jul 15:33

Version 1.3 beta Multi

Neue Produktionen
Überlanddeco
Decograss
einige Bugreports

30 Apr 16:49

Version 1.2 Beta

* Bugreports wurden bearbeitet und korrigiert
* Änderung der Help-Line im "ESC-Menü" (letzter Reiter)
* Weitere Produktionen sind hinzugekommen:
- Essigsäure + Harnstoff = Pflanzenschutzmittel
- Marmeladenproduktion
- Wasserwerk um Wasser aus Holzkohle oder Holzscheite zu produzieren
- Zigarettenfabrik
- Zellulosefabrik wurde um Papier erweitert
- Metzger wurde um Dönerspieße erweitert
- Dönerproduktion
- Suppenproduktion in Erasco
* Folgende Änderungen wurden durchgeführt:
- Wassertürme in Helmbergen + Kirchdorf sind nun befüllbar
- Tankstellen in Feldkirchen + Grünsdorf sind nun befüllbar
- Anpassungen mancher Produktionen
- Weitere Lager am LU Hof 8
- Neues Dörfchen "Seefeld"
* Einige Änderungen der Überlanddeco
* Änderungen an der Deco in den Städten + Dörfern
* Alle Felder haben Feldwege, alle Waldgebiete Forstwege
* Feldwege welche auch das "abkürzen" erlauben
* Änderungen an den Hofsilos (400.000 Kapazität, außer bei Hof 7)
* Anpassungen der Preise bei den Verkaufsstellen (diese sind aber noch immer nicht Final!)

28 Feb 12:23

Version 1.1 Beta

Höfe überarbeitet
Deco hinzugefügt
Neue Fabriken wurden verbaut
Neue Verkaufsstellen
Huds wurden geändert
einige grafiken wurden überarbeitet

30 Jan 22:05

Version 1 Beta
Files

Do you think this mod should be featured?
Unterstütze den Entwickler!
Jetzt mit PayPal spenden
}