HoT Seeds & Fertilizer Production
V mCompany mod for Farming Simulator 17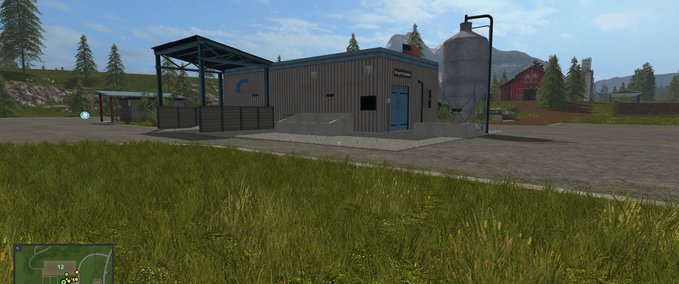 description
featured
presents
Seed and fertilizer production [placeable]
Now produced your own seeds and fertilizer!

Fertilizer production:

Requires: -> solid and liquid manure (max 20,000 liters per unit.)
Product: -> Mineral

Seed Production:

Requires: -> fertilizer and grain (max 20,000 liters per unit)
Product: -> Seeds

Mixing ratio: 1: 1

Product storage: 60,000 l max.

Filling: Shovel or trailer, standard vehicles are sufficient.

Removal: Shovel or conveyor belt

Cost: Pro Production Building € 90,000 purchase and 10 € per day maintenance costs

Liquid fertilizer is currently not producible!
Support: Buure Forum
Have fun!
Credits
Modell: SanAndreas / Giants
Textur: SanAndreas / Giants
Script: kevin98
Idee / Konzept: SanAndreas
Tester: HoT online Team
Sonstige: 
changes
15 Feb 12:29

Version mCompany

Script auf mCompany umgestellt
Sollte nur auf Maps ohne Fabrikscript genutzt werden!!!

30 Apr 19:27

Version Final Fixed

- Fehler bei der Dünger Produktion behoben
- neueste Scriptversionen hinzugefügt

26 Apr 19:27

Version Final Fix

- Auf mehrfachen Wunsch wurden Gärreste bei der Fertilizer Produktion mit eingetragen
- Belademenge pro Sekunde erhöht
- Fehler in der Einbauanleitung behoben

07 Jan 09:02

Version Final

Fehler behoben
Arbeit eingestellt

05 Jan 19:57

Version 1.2

Es wurde das neueste Fabrikscript verbaut, d.h. es muss nicht mehr per schaufel verladen werden.
Bodenplatte angeschrägt
Flüssigdünger Produktion hinzugefügt

02 Dec 01:57

Version 1.11

Gebäudekollision hinzugefügt

Do you think this mod should be featured?