Kroger Agroliner HKD 302
V 8.0 mod for Farming Simulator 2013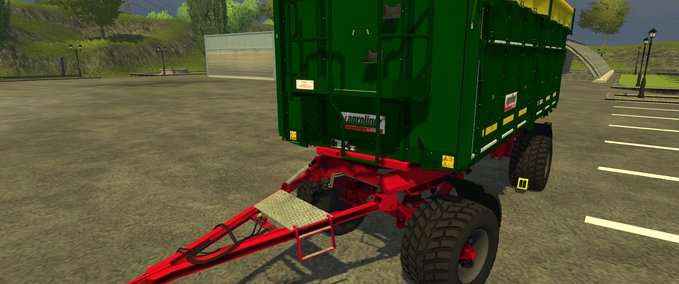 description
featured
Kröger Agroliner HKD 302 V1.0
So Leute hier ist mein "Kröger Agroliner HKD 302 V1.0". Das Modell ist kompl. neu gebaut und hat mit all den anderen Modellen nichts zu tun.
Ich habe versucht so viele Details wie möglich ihn zu verpassen musste aber auf einiges verzichten da er sowie schon eine Menge Polys hat. Die Bordwände incl. Kornschieber und Verrieglungen der einzelnen Bordwände sind animiert. Er arbeitet wunderbar mit "ToggleTipSide" und "alternativetipping" zusammen.
Der Anhänger wurde im MP gründlich unter die Lupe genommen und hat eine saubere Log hinterlassen.
Er hat eine Nutzlast von 16t und man kann ihn mit folgendem beladen,
<fillTypes fruitTypes="grass_windrow chaff wheat rape maize barley potato sugarBeet manure forage fertilizer seeds silage"/>
Bedanken möchte ich mich noch bei den MP Testfahrern , für die seelische und moralische Unterstützung, natürlich auch für die fachlichen bzw. technischen  Tipp's während der Bauphase.
Ich hoffe ich habe mit dem Neubau des HKD 302 euer Interesse getroffen.
Es ist untersagt, dieses Werk in gleicher, ähnlicher oder veränderter Form, ohne Einwilligung des Urhebers (Lindemann), erneut zu veröffentlichen.
FORBIDDEN TO MAKE UPLOAD ON OTHER SERVER, IF NOT OBSERVED THE CONDITIONS OF 
LICENSE. And 'FORBIDDEN TO DISTRIBUTE THE MOD SO DIFFERENT FROM THE ORIGINAL
FILE WITHOUT YOUR INSTALLER! FOR THE BEST COMPATIBILITY IN MULTIPLAYER GAMES PLEASE KEEP ORIGINAL DOWNLOAD LINK
Credits
Modell/Textur/ingame: Lindemann
Credits
Modell/Textur/ingame: Lindemann
changes
21 Jun 16:44

Version 8.0

MR Version
Kalk und Hackschnitzel wurden eingebaut.
Zweiter Satz Reifen ist auch dazu gekommen

21 Jun 16:44

Version 7.0

Kalk und Hackschnitzel wurden als Früchte dazu gefügt,
zweite Satz Räder wurde eingebaut.

02 Feb 12:28

Version 6.0

waschbar gemacht und mit Plane die beim abkippen etwas animiert ist.
Files
checksum:
eb82784bbb52b44f9a209dcf4ec80474
Version:
8.0
multiplayer ready?
yes
Author:
Lindemann
price in shop:
19950 LS
name in shop:
MR HKD 302 V7
description in shop:
Der HKD-302 mit 16t Füllmenge.
Modell/Textur/ingame: Lindemann


Do you think this mod should be featured?
}