Multimap2019
V 2.3 mod for Farming Simulator 19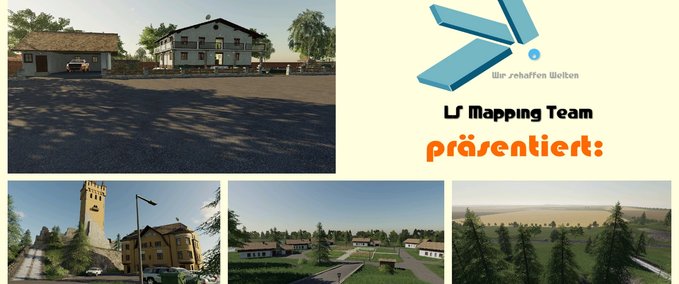 description
featured
The original mapper of this map is LF-Bauer. He had already invested a lot of effort and diligence in this map in 2014, and although there were several cards with this name, in my view, this card is the best of them all.
The basis for this is the Multimap for the LS 15 and LS17. The version for the LS15 but never found its way into the public, but was kept private by LF-Bauer. Finally, I was asked by him to get the card in the LS17. Now she arrived in the LS19.
Here again the "technical data":
• 4-fold map with multifruit and 42 fields.
• 1 yard
• 2 skin silos for cereals and feed, as well as for earth fruits
• Extra storage in the yard for fertilizer, seeds and lime
• Many outlets
• Traffic
The following fruits are installed:
Standard fruits, cultivation of sugar cane and cotton is possible, oats, rye, spelled, millet, hops, tobacco, onions, carrots, lettuce, cabbage, red cabbage, poppy and clover.
Clover can be mowed, the resulting clover can be fed or used in the BGA for silage production.
At this point, my special thanks go to GMCW, zero_ace and dondiego00 for releasing their fruits for incorporation into the Multimap.
Road, terrain and almost all old objects were taken 1: 1. For players who play in the level Farmer, at the start of the game all silos and stables are already available. Players in the MP I recommend to make a Savegame in SP and use this for MP. Ultimately, of course, the decision is up to you.
There are open spaces to place mods.
All old production sites are present on the map and will be reactivated as soon as the Global Company (successor of the factory script) has been released. Until then, all unloading points, which are related to productions, are blocked by barriers. For this you will find on their premises temporary outlets, which will be removed later. These interim sales points will recognize you at the ramps for unloading.
We have put a lot of effort and work into this card, it has been extensively tested extensively in the SP and MP over several weeks. The log is clean, the card runs smoothly in both the SP and MP. Should errors still occur, then please install the latest patch 1.3 from Giants and / or clean up the mod folder.
The zip file needs to be unzipped, as there are still harvesters for harvesting cabbage, both onions and carrots. These mods are intended to be only a temporary solution until a suitable mod appears, which makes the individual machines superfluous.
My special thanks go to LF-Bauer for providing us with this card as well as to my test players:
Lisa, Holzmichel, rk54, rokki, hyacinth lindauer, sailor178, Makaay, Impala, Rosti, CM2017
Test Players / Teams Multiplayer:
Hawk191280, Krebi and IrrenhausTV
Credits
Credits Multimap 2019
Giants
Scripte:
Marhu, kevink98, joker301069, BlackSheep, Blacky_BPG, 112Tec, Ifkonator
Urmapper:
LF-Bauer
Umbau für LS17 und LS19:
FalPos
Animationen:
LF-Bauer
Multifrucht:
Danke an GMCW für die Freigabe seiner zusätzlichen Früchte
Danke für [TRLP] Markus für die Freigabe seiner Früchte
Danke an Don Diego für die Freigabe seiner zusätzlichen Früchte
Einzeichnen der Schneemaske:
Holzmichel
Objekte LS13/15/17, sofern bekannt:
Giants, Kastor, Der_Wanderer, möchtegernbauer, Nic89.1, 112TEC, Niggels, The Snake, scottryder, San Andreas, M1800Power, Bummi, Marhu, Devin, Hewaaa, Bigblue, GE -Mapping, dajun, wellano920, dds-modding, Ingolf, Katsuo, Blacky BPG, marc85, mike LSF Modding, PaPa, TuneWar, pisty, manni112, adam5525, SLJ-Agrar, Mark44, MCMC, borutcebuli, Der Melker, ni-modding, XAnonymousX, atze1978, odin1985, Gaucho, sherco58,LS-farming.nl, Farmeraner, KIK, Aerocool1, Trekkerbodo, Zefir, LS-Community, Farmer_Andy und Zero_Ace,My7, GTX und Eribus, Dorset
zusätzlich für Objekte LS19:
Giants
Reithalle:   Lisa
Hallen Hof:  Mike Modding
Unterstände: GSi-Flash
Hudfiles:  HappyLooser
Foliage Mohn:  DH-Singelmodding
Auf der Karte befinden sich noch Objekte aus dem LS13 und LS15, deren Herkunft mir nicht bekannt ist. Diese habe ich so von der ursprünglichen Karte übernommen. 
Nachtrag Logistikhalle seit LS15
[FSM] Atabogo
Wer sein Objekt wieder erkennt und nicht erwähnt wurde, der kann sich jederzeit bei mir melden. Natürlich wird der Eintrag dann nachgeholt. 
Testspieler:
Lisa, Holzmichel, rk54,  rokki, hyazinthlindauer, Seemann178, Makaay, Impala, Rosti, CM2017, Bibel1971, DeFrankfurter, mirko, Andii1980Gaming, Twoface, Jacky79
Testpieler/Teams Multiplayer:
Hawk191280, Krebi und IrrenhausTV
Giftzwerg, kleene, Sille, Günny, Leon
changes
22 Oct 13:23

Version 2.3

Paletten komplett überarbeitet
Trigger bei Annahme von Paletten als Rohstoffe korrigiert, Paletten werden jetzt überall problemlos angenommen
Trigger für Wasserentnahme bei Gewächshäusern und Hühnerfarm gefixt

04 Oct 13:53

Version 2.2

FarmlandId's der Produktionen korrigiert.
Pferdestall ist jetzt auch separat käuflich
Palettenspawner beim Sägewerk Papier (nur bei Papier) gedreht
Palettenspawner bei der Gemüsseabfüllung komplett gedreht (Paletten stehen jetzt quer)
bei der Mühle Roggen als Rohstoff hinzugefügt
etliche schwebende Bäume gegenüber Feld 3 korrigiert
Etliche Tore auf automatisches Öffnen eingestellt. (Mod ist dafür erforderlich --> HoT Animated Object Extend) betrifft Tore am Hof, LC, Unterstellhallen Hof, Weberei, Hühnerfarm
Trigger Eierpaletten bei Flüssigeiproduktion nochmals korrigiert
Fermenter nehmen jetzt Stroh und Ballen (Gras und Stroh) an
Trigger LC an Halle 1 und 2 zur Entladung verlängert. Dadurch kann man nun auch mit dem Kühltrailer aus dem Kamaz-Pack entladen.
Als Deko fahrender Stapler (wie auf Saxonia) verbaut. Pendelt am LC zwischen Halle 1 und 2
Baumwolle kann man jetzt mit einem Drescher (Maisgebiss) ernten. Dadurch kann man die Baumwolle als Schüttgut bei der Weberei anliefern. Baumwollballen werden nun ebenfalls angenommen.
Sounds korrigiert
Unsichtbare Objekte bei der BGA entfernt
Sprungpunkte Farmhaus, Tankstelle bei Edeka und Weberei Verkauf korrigiert
Noch ein wichtiger Hinweis. Wir hatten auf der MM immer wieder das Problem, das nach einer gewissen Zeit im Spiel (meist nach mehreren Spieltagen) folgende Fehlermeldung erschien:

2019-08-02 16:32 dataS/scripts/fieldJobs/FieldManager.lua(541) : attempt to index a nil value
2019-08-02 16:32 Error: Running LUA method 'update'.

und

2019-08-02 16:39 dataS/scripts/fieldJobs/FieldManager.lua(564) : attempt to index a nil value
2019-08-02 16:39 Error: Running LUA method 'update'.

Ich habe herausgefunden, dass dieser Fehler immer dann auftaucht, wenn der PC-Bauer eine Frucht ins Spiel bringt, welche eigentlich nicht angebaut werden dürfte, sprich wo die Missionen deaktiviert sind. Das ist offenbar ein Bug von Giants und betrifft nicht nur unsere Karten.

Wir haben nun bei allen Früchten die Missionen eingeschaltet, das heißt, auf den Feldern findet Ihr nun auch Zuckerrohr und Baumwolle vor, aber auch Pappeln, Zwischenfrüchte und Klee. Seither ist dieser Fehler noch nicht wieder aufgetaucht. Es ist aber möglich, das Ihr dafür einen neuen Spielstand machen müsst, damit diese Fehler ausbleiben. Generell ist aber für das Update kein neuer Spielstand zwingend erforderlich. Dennoch rate ich wie immer an, sollten neue Probleme auftreten, dann doch besser neuen Spielstand machen.

27 Sep 16:08

Version 2.1.1

Tomatenhaus 1 gefixt, hatte falsche Id bei den farmlands

16 Sep 11:44

Version 2.0.1

Fehler bei Sägewerken und Palettenwerken im MP gefixt.

14 Sep 12:24

Version 2.0

- alle Produktionen sind reaktiviert
- Interimsverkaufsstellen und Absperrungen entfernt

19 Jun 16:28

Version 1.1.1

Compound-Fehler gefixt nach Patch 1.4
Saatgut-, Dünger- und Kalklager sind jetzt in jedem Level verfügbar. (Neues Savegame erforderlich)
BGA, Abfüllung Silage für Gärreste gefixt

29 Mar 15:54

Version 1.1

- falsch öffnendes Tor gefixt
- Gras lässt sich jetzt im Spiel zeichnen
- BGA in allen Levels nun verfügbar
- Futterlager für Scheine, Pferde und Schafe in allen Levels verfügbar und im Shop vorhanden
- Futterlager Schweine Terrain korrigiert, Trigger lag unter dem Boden, Stroh und Schweinefutter hinzugefügt
- Koppeltore beim Schafstall ausgetauscht, müssen jetzt manuell geöffnet werden (betrifft nicht das Haupttor)
- Bodenpreis pro Hektar auf offiziellen Durchschnittspreis in Deutschland angepasst. Stand 2017

Da ich den Boden beim Futterlager der Schweine anpassen musste, wäre theoretisch ein neuer Spielstand notwendig. Um das Euch zu ersparen, gibt es dafür einen extra Download einer einzelnen Datei. https://filehorst.de/d/cAevneDz

Die zip-Datei bitte entpacken und die enthaltene Datei in Euer Savegame kopieren. Die vorhandene Datei einfach überschreiben.
Für alle diejenigen, welche sich an einer oder mehreren Stellen in der Karte den Boden selber bearbeitet haben, ist diese Variante allerdings nicht zu empfehlen, da durch den Austausch der Datei Eure eigenen Änderungen verloren gehen.

22 Mar 12:14

Version 1.0

Do you think this mod should be featured?
Unterstütze den Entwickler!
Jetzt mit PayPal spenden
}