Saxonia for LS19
V 2.0 mod for Farming Simulator 19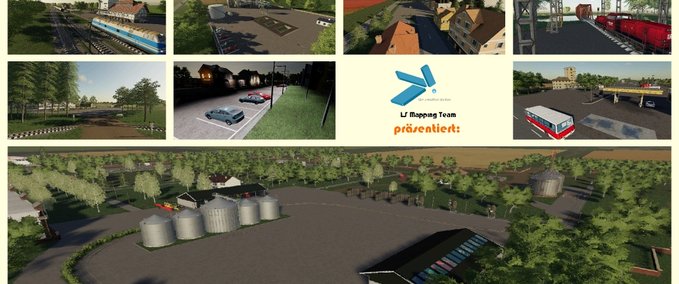 description
featured
Auf vielfachen Wunsch habe ich die 4-fach Karte Saxonia in den LS19 geholt. Wer die Karte aus dem LS17 kennt, wird sich schnell wieder zurechtfinden.
Folgende zusätzlichen Früchte sind verfügbar: 
Karotten, Zwiebeln, Weißkohl, Hopfen, Tabak, Dinkel, Hirse, Mohn, Roggen, der Anbau von Zuckerrohr und Baumwolle ist möglich.
Felder gibt es 57 an der Zahl, das kleinste liegt bei ca. 2 ha, das größte bei ca. 98 ha
Alle alten Objekte (Ausnahme Sägewerk) findet man am alten Platz wieder. Einiges ist neu hinzugekommen, einige Objekte/Gebäude wurden durch aktuelle ausgetauscht.
An der Topographie der Karte wurde nichts geändert.
Es gibt wieder 5 aktive Zugstrecken, diese bedienen die eine oder andere Entladestelle. Der 5. Zug ist wie gehabt der Sammler. Dieser fährt alle Außenlager ab und bringt die Ernte auf den Hof.
Auf dem Hof befinden sich 3 separate Silos, das allgemeine Hofsilo, das Lager für Erdfrüchte und das Lager für Futtermittel (Strohlager). Alle Lager können mit dem Sammler bedient werden. Eine Beladung des Zuges auf dem Hof ist nicht vorgesehen.
Des Weiteren findet Ihr auf dem Hof Lager für Flüssig- und Festdünger, Saatgut, Kalk und Pflanzenschutzmittel.
Direkt auf dem Hof befinden sich die Ställe für Kühe, Schweine und das Federvieh, die Schafe findet man in nördlicher Richtung in unmittelbarer Nähe zum Hof. Der Pferdestall befindet sich neben dem Hotel "Steigenberger".
Um alle auf dem Hof befindlichen Hofsilos und auch sämtliche Stallungen nutzen zu können, empfehle ich einen Spielstand im SP im Modus "Neuer Farmer", diesen kann man dann auch im MP verwenden und alle Silos und Stallungen sind bereits von Beginn an verfügbar.
Es gibt mehrere leere Industrieflächen für das platzieren Eurer eigenen Mods.
Es gibt 4 Außenlager in denen Ihr Eure Ernte zwischenlagern könnt, bis der Sammler sie auf den Hof bringt. An allen Außenlagern befinden sich weitere Lager für Saatgut, Festdünger und Kalk. Zusätzlich befinden sich dort befüllbare Tankstellen.
Aktuell gibt es 14 nutzbare Produktionen. Dies wären:
- Grastrocknung
- Raffinerie
- Mühle
- Fermenter
- Düngerproduktion
- Saatgutproduktion
- Kalkgewinnung
- Produktion Flüssigdünger und Herbizide
- Mälzerei
- Brauerei
- Mischfutterproduktion
- Schweinefutterproduktion
- Zuckerwerk
- Blaumohnproduktion
Alle weiteren zukünftigen Produktionen, welche noch nicht aktiv sind, haben die von der Multimap schon bekannten Absperrungen erhalten. Dafür befinden sich in diesen Werken Interimsverkaufsstellen. Sobald das GC erschienen ist, und die Produktionen eingebaut wurden, verschwinden diese Absperrungen und auch die Interimsverkaufsstellen wieder.
Neu auf der Karte sind die Ölmühle und die Zigarettenfabrik. Diese sind aber noch nicht aktiv. Verkauf ist dort aber möglich.
Die Karte wurde über mehrere Wochen umfassend im SP und MP getestet. Sollten dennoch Fehler auftreten, dann bitte ich um eine entsprechende Info an mich.
Credits:
mein besonderer Dank geht an GMCW, zero_ace und dondiego00 für die Freigabe ihrer Früchte zum Einbau
Ich bedanke mich bei allen Testpielern für ihre unermüdliche Arbeit.
Bereich SP:
Lisa, Holzmichel, rk54, rokki, hyazinthlindauer, Seemann178, Makaay, Impala, CM2017, Biebel1971, mirko76hl und Sachsen-Bauer
Bereich MP:
MwieMicha, Lalletwo
Dank auch an GakkiSpielt  für die Mapvorstellung
Weitere Credits findet Ihr in der nachfolgenden Liste und in der Karte selber.
Der Karte ist ein Trailer für Flüssigkeiten beigefügt, diesen benötigt Ihr für den Transport von Bier und Diesel. Daher muss die Zip erst entpackt werden.
Ich bedanke mich bei allen Moddern für ihre Objekte die ich verbaut habe. Sollte ich jemanden übersehen haben, oder jemand sein Objekt wiedererkennen und namentlich erwähnt werden wollen, so werde ich das in der nächsten Version meiner Map nachtragen.
Es ist nicht erlaubt die Karte neu hochzuladen oder umzubauen und neu hochzuladen!!! Wenn Ihr die Karte verlinken wollt,
nutzt bitte ausschließlich den ORIGINAL Downloadlink!
English: I thank all modders for their objects I have installed. If I have overlooked someone, or someone want to recognize his object and be mentioned by name, I will follow it in the next version of my map.
It is not allowed to upload or rebuild the card and upload it again !!! If you want to link the map,
Please use the ORIGINAL Downloadlink!
Polska: Dzi?kuj? wszystkim modulatorom za ich obiekty, które zainstalowa?em. Je?li kto? pomin??by kogo? lub kto? chce rozpozna? jego przedmiot i by? wymieniony po imieniu, pod??am za nim w nast?pnej wersji mojej mapy.
Nie mo?na przesy?a? ani odbudowywa? karty i przes?a? j? ponownie !!! Je?li chcesz po??czy? map?,
U?yj ORIGINAL Downloadlink!
???????: ? ????????? ???? ???????? ?? ???? ???????, ??????? ? ?????????. ???? ? ??????? ????-??, ??? ???-?? ??????? ?????? ??? ?????? ? ????? ???????? ?? ?????, ? ???????? ?? ??? ? ????????? ?????? ???? ?????.
?? ??????????? ????????? ??? ????????????? ????? ? ????????? ?? ????? !!! ???? ?? ?????? ??????? ?????,
??????????, ??????????? ORIGINAL Downloadlink!
Damit wünsche ich Euch viel Spaß auf der Saxonia für den LS19.
Credits
Credits: LS17/19
Giants
Objekte:
Kastor: Fermenter Silo, Holzhacker, Futtermischer Pack, Schlachthof
Arii: diverse Objekte
slowtide63: Logistiklager
farming2001: Kapelle mit GLocke
HarryBo: Tankstation
Spieler11: Flughafen, Straßenbahn
Nick98.1: Straßenschilder
auwgl: Bio-Diesel Raffinerie
San_Andreas: HoT Seeds & Fertilizer Produktion
Mod_Toaster: Schweinefutterlager
GTX Mods: Multi Storage Shed
atze1978: Strassenbaukasten
HenkieNL: Balestorage
Katsuo: Biomasselager
Farmerahner: Berg 3D
VASZICS: Strassenpack mit Brücke
Bauer heini: Shell Tankstelle
AKA_Boroda Joa: Zuckerwerk
Der_Wanderer: Weberei
GE-Mapping: Brauerei
CREDITS Flughafen und Straßenbahn
Modname: Maschendrahtzaun
Autoren: 112TEC
Modname: Strassensystem
Autoren: atze1978
Modname: Gehweg
Autoren: Luculus
Modname: Gebäude,Fahrzeuge
Autoren: BernieSCS
Modname: Schranken
Autoren: BlackyBPG
Modname: Fahrzeuge
Autoren: EKKI
Modname: Beleuchtung
Autoren: LKXstudios
Modname: Radarturm
Autoren: Rummelboxer
Modname: Deco
Autoren: From Holland Modding
Credits nur LS19
Scripts: LSMC, kevink98, Sven777b, Desperados93
Hasco:  Strohlager
Kastor: Diesellok
Kibo:   Diesellok
Lisa:   Pferdestall
Mike Modding: Hallen Hof
HappyLooser:  Hudfiles
[FSM] Atabogo:  Logistikhalle
[LE] Mach1--Andy:  Hänger am LC BioBauern
Danke an GMCW für die Freigabe seiner zusätzlichen Früchte
Danke für [TRLP] Markus für die Freigabe seiner Früchte
Danke an Don Diego für die Freigabe seiner zusätzlichen Früchte
changes
08 Nov 12:47

Version 2.0

Alle alten Produktionen wurden mit dem GC wieder reaktiviert. Zusätzlich gibt es auch einige neue Produktionen, u.a. die Futterwerke, Zigarettenfabrik, Ölmühle usw.

Unter Verwendung des AdBlue-Mods wird die AdBlue-Funktion der Fahrzeuge freigeschaltet. AdBlue wird in der Raffinerie hergestellt. Es gibt dafür auch befüllbare Tanksäulen sowie am Händler eine Tankstelle, wo man AdBlue kostenpflichtig auftanken kann.

Es gibt einige wenige optische Veränderungen an diversen Objekten, aber auch am Terrain, bzw. Bodenlayern.

Einige platzierbare Objekte wie ältere Produktionen auf dem Hof wurden wieder entfernt. Sie dienten nur als Übergangslösung.

Aus diesen Gründen ist ein neues Savegame zwingend erforderlich. Bitte haltet Euch daran, da es sonst zu zahlreichen Fehlermeldungen kommen kann.

22 Jul 20:27

Version 1.1.1.0

Entladetrigger für Zug bei den Außenlagern verbaut
Entladetrigger für Zug bei Erdfrüchtelager korrigiert
Feldzufahrt bei Feld 27 korrigiert
Beladetrigger beim Hofsilo verbaut, Zug kann dort jetzt beladen werden.
Dünger, Kalk und Saatgut ins Hofsilo und die Außenlager eingetragen, damit kann man jetzt diese Sachen an die Außenlager verteilen. Der Weg von der Düngerfabrik zum Hofsilo bleibt aber nicht erpart.

19 Jun 12:01

Version 1.0.1.0

Karte an Patch 1.4 angepasst, Log ist frei von Warnungen
Sprungpunkt Farmhaus korrigiert
Fehlendes Fensterglas bei Ölmühle korrigiert

Ein neuer Spielstand sollte nicht notwendig sein

14 Jun 09:32

Version 1.0
Files

Do you think this mod should be featured?
Unterstütze den Entwickler!
Jetzt mit PayPal spenden
}