Cartransporter Unimog
V 1.0 mod for Farming Simulator 15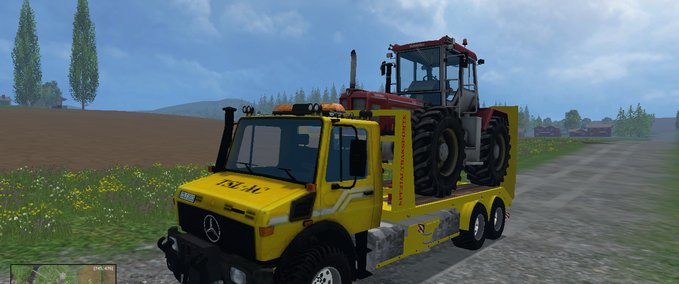 description
Here is my Unimog CARTRANSPORT LS15 clean!

This is not the most beautiful, the texture on the car, I know also.
Who does not like, simply NOT upload!

* Conversion from LS13 LS15 on standard without washable!
* Vmax: 75km / h
* Work light, front / rear
* Attacher: implement, normal, low
* Rulebalken
* DynamicMountAttacher
* Ballenattacher activated (marking tow bar rear) ... thus FAST is fixed everything
* Wheelset (3verschieden wheelsets)
* ... And other little things

Have fun with it ... TheSecretLife

It is prohibited to upload this mod again, not even in modified form!
Please use the original download link!
- It is forbidden to upload this mod again, even in the form of altered!
Please use the original download link!
- Draudžiama / kelti š / mod vl, net pakitusiu pavidalu!
Prašome naudoti originalus parsisiuntimo nuorod!
- Zabrania si WGra th mod jeszcze, w nawet zmienionej formie!
Prosz u | ywa oryginalnego link do pobrania!
- The zakázáno vkládat tento mod znovu, a to i ve zm n né form! Prosím použijte Povodni odkaz ke stažení!
Credits
TSL
Files

Do you think this mod should be featured?