Community Patch
V 0.1.0-rc4 mod for Mount & Blade II: Bannerlord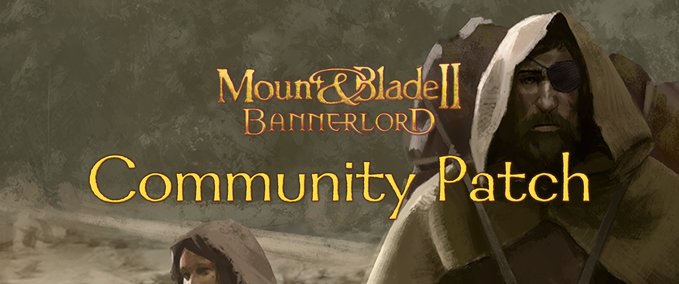 description
Completely open source: https://github.com/Tyler-IN/MnB2-Bannerlord-CommunityPatch
If you'd like to collaborate on the project, please contact me via discord (̑????#4344) on the TW Forums - Modding discord or the Mount and Blade discord.

This is going to be a mod that just fixes up some things in Mount & Blade 2: Bannerlord before the Devs & QA team can get to them.
Hopefully we can incorporate various community fixes together in one mod and enable other mods to behave better together.
Current Fixes
Perks

Athletics

Extra Arrows
Extra Throwing Weapon
Peak Form

Leadership

Disciplinarian Fixed in e1.0.6
Ultimate Leader

Scouting
Riding

Spare Arrows
Spare Throwing Weapon
Bow Expert
Conroi
Crossbow Expert
Filled To Brim
Squires
Trampler
Nomadic Traditions
Horse Grooming

Bow

Mounted Archer
Large Quiver
Battle Equipped

Crossbow
Throwing
Steward

Agrarian
Assessor
Bannerlord
Enhanced Mines
Food Rationing
Logistics Expert
Man-At-Arms
Nourish Settlement
Prominence
Prosperous Reign
Reconstruction
Reeve
Ruler
Supreme Authority
Swords As Tribute
Tax Collector
Warmonger
War Rations

Engineering

Ballistics
Construction Expert
Improved Masonry
Good Materials
Everyday Engineer
Builder
Scavenger
Armorcraft
Wall Breaker
Imperial Fire
Resolute

Roguery

Party Raiding
Eye for Loot
For the Thrill
Slip into Shadows
Briber
Negotiator
Bribe Master
Escape Artist
Slave Trader
Merry men

Two Handed
Tactics

Companion Cavalry
Tactical Superiority
One Step Ahead
Elusive
Bait
Logistics
Ambush Specialist
Phalanx
Hammer and Anvil
Trusted Commander

Policies
Feats

Aserai Cheap Caravans Fixed in e1.3.0
Battanian Forest Agility
Khuzait Cavalry Agility
Sturgian Snow Agility

Learning Rate explanation
Item Comparison perk-based coloring
Party Morale bonus being too low for >10 food variety
Fixed crash that occurs when the Neutral clan gains a clan tier
Warn user that early story quests will timeout
Fix detection of snowy terrain and apply snow movement debuff as a factor of snow density
Current Features
Enable and Disable the Intro Video
Enable and Disable Menu when encountering a neutral or enemy army.
Generate Diagnostic Report
Toggle recording First Chance Exception info (don't use unless troubleshooting bugs)
Automatically capture Diagnostic Info to the Clipboard when an Unhandled Exception crash occurs
Modders
Mods can add a element containing traditional that will be only loaded after the first tick of the game. This also allows delay loaded mods to refer to other modules' assemblies, such as SandBox's SandBox.ViewModelCollection.dll etc.
Manual install instructions
Extract the zip to your Mount & Blade II Bannerlord\Modules directory, you should see a new directory called CommunityPatch. If the directory already existed from a previous install, you should delete it before extracting the new version (unless you know what you're doing already).
You may optionally delete the src and tools directories if you don't need them.
In the future, releases (may) not include them.

You may need to right click on the CommunityPatch\bin\Win64_Shipping_Client\*.dll files, click Properties, and click Unblock if you extracted the zip file with Windows Explorer or other programs that try to secure extracted files. Future releases may not use zip files to avoid this.
If you want to contribute, check out the project to your "Mount & Blade II Bannerlord\Modules\CommunityPatch" directory and use JetBrains Rider as an IDE, load the CommunityPatch.sln solution file.

Mod banner by Xaphedo
Credits
changes
15 Jul 05:08

Version 0.1.0-rc4
Empfehlungsrate
-/-
noch nicht genug Stimmen
Do you think this mod should be featured?
}