Entrepreneur
V 1.1.1 mod for Mount & Blade II: Bannerlord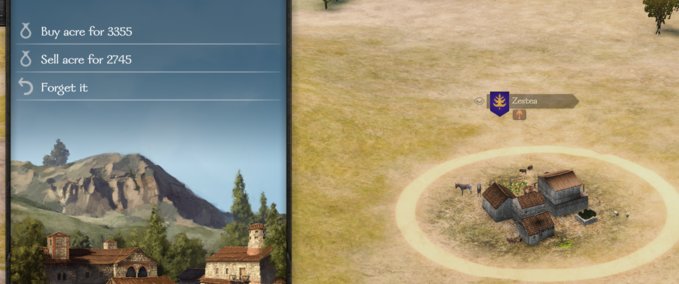 description
This is the first release of Entrepeneur with a very limited set of features.
Current features:
All villages now have a random number of acres where some will be vacant and others will be occupied by the village.
Each acre has a value that is calculated by the production of the village and availability. The player can buy and sell acres with some percentage of deviation from the real value.
Each week, all player owned acres will yield a profit.
External factors like raids will influence the price of farm acres and the margins that the villagers will buy/sell their plots.
Future features:
Raids will have a chance to destroy farm plots.
Different property types for both villages and cities.
Gauntlet UI instead of a menu based UI.
Credits
changes
15 Jul 05:08

Version 1.1.1

Greatly reduced acre payout. The payout will remain weekly due to the fact that having a daily payout greatly reduces the negative effects of raiding.
Conditions such as rebellion, famine, desertion, raiding and siege now affect the buy/sell prices.
The average player relation with all village elders is also used to apply a discount to buy/sell prices.
Added DependedModules to SubModule until TaleWorlds fixes mod loading.
Empfehlungsrate
-/-
noch nicht genug Stimmen
Do you think this mod should be featured?
}