ISL - Ratel-RO 780 Excavator
V 1.0 mod for Space Engineers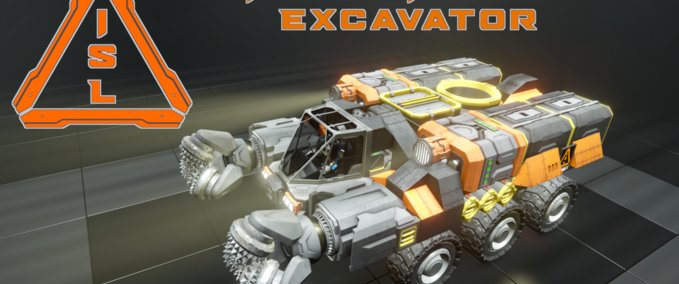 description
DISCLAIMER: These ships/rovers are designed for PC, with scripts. they will work without them, but some functionality (eg. advanced wheel control, automated mining and shuttle routes, etc.) and fancy LCD readouts will be missing.
Purpose
Designed to replace and improve upon the original, now decommisioned, Excavator. Featuring smoother controls, a slightly wider drill profile, more cargo space and more docking options.

The Ratel is designed for excavation and mining, it is able to fit into the tunnel it mines and can change tunnel elevation though timer blocks manipulating wheel suspension height offset. Be sure to have wheel suspension strength turned high enough for height offset changes to be effective.

Features
Tools & Weapons:
2 forward facing drills

Power:
2 Large Batteries
1 Hydrogen Engine
1 Hydrogen Generator


Movement & Control:
1 Cockpit
1 Remote Control
1 Gyroscope
6 Wheels (3x3)

Cargo Space
5 Medium Cargo Containers
3 Connectors

Miscellaneous:
4 Cameras - front, top, underside and rear
1 Ore Detector
1 Sensor (for use with PAM)
2 Spotlights

This ship has an empty mass of 18198 kgs.

All ships in this set have a rear mounted Merge block and can be printed using a welder wall with one (large grid) piston. However in this design the merge block will have to be ground down if docking via the rear connector, all blocks that require removal are painted bright red.

Toolbars
Toolbar 1
1. Wheel Power Down
2. Wheel Power Up
3. Wheel Friction Down
4. Wheel Friction Up
5. Lights On/Off
6. Connectors Switch Lock
7. Wheel Strength Down
8. Wheel Strength Up
9. Handbrake On/Off


Toolbar 2
1. Battery Discharge
2. Battery Recharge
3. Camera Front
4. Camera Underside
5. Camera Rear
6. Camera Top
7.
8. Ore Detector
9. Antenna Broadcast On/off

Toolbar 2
1. TB Tilt Up
2. Reset Wheel Height Offset
3. TB Tilt Down
4. Wheel Height Offset Increase
5. Wheel Height Offset Decrease
6. Drill Control
7. Drills On/Off
8. Hydrogen Generator On/Off
9. Hydrogen Engine On/Off

Toolbar 6
1.
2.
3.
4.
5. Repair Projector On/Off
Credits

Empfehlungsrate
-/-
noch nicht genug Stimmen
Do you think this mod should be featured?
}