Market Carts
V 1.0.0 mod for Foundation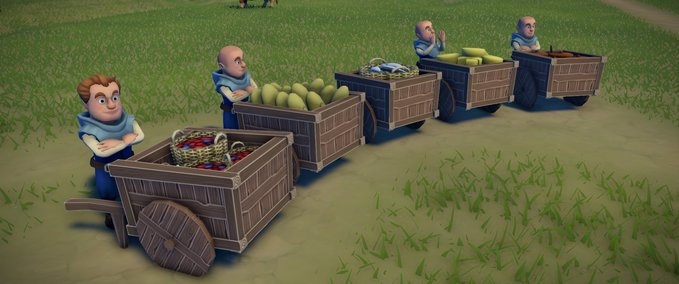 description
Adds five food market carts that will sell items directly from their respective workplaces, or from granaries. These can be used instead of food market tables, with the difference that they do not require a granary.
New carts in this mod that appear in the Market menu:
Berry cart
Bread cart
Fish cart
Cheese cart
Honey cart
If you place this mod after other mods in the load order, it will also add all the carts and tables from my other mods to the Market menu. This puts everything in one place for selling. The carts and tables added include:
Fuelmonger's cart (Fuel mod)
Town Crier's podium (Security mod)
Apple cart (Orchard mod)
Butcher's table (Livestock mod)
Chandler's table (Livestock mod)
Creamery table (Livestock mod)
Milk cart (Livestock mod)
Poultry cart (Vegetable and Poultry mod)
Egg cart (Vegetable and Poultry mod)
Vegetable cart (Vegetable and Poultry mod)
Pottery cart (Basic Materials mod)
Furniture market (Furniture mod)
Credits
changes
16 Jan 09:02

Version 1.0.0

First release.
images

Empfehlungsrate
-/-
noch nicht genug Stimmen
Do you think this mod should be featured?
}