Shield Holaras 500 NV
V 2.1.1 mod for Farming Simulator 17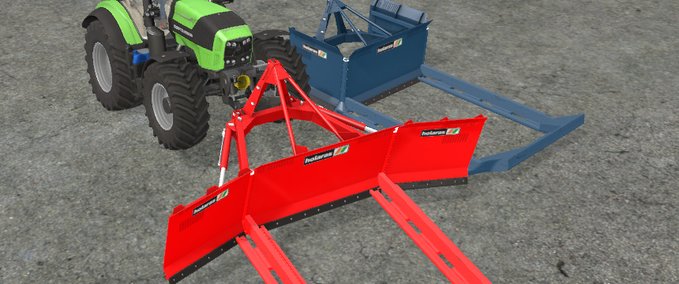 description
featured
Hi
Here I push a silo Child to maize chaff. Since it is not possible with the existing sign, without much effort to push a straight face, I have this sign upgraded accordingly.
These forward a support bracket was grown. This prevents the sinking of the tractor and niverliert so automatically the sign. It works best at a maximum of 5 km / h. The grader the plate rests, to more uniformly the result when pushing.
color selection
log free
Have fun
Credits
Modell: 
Textur: 
Script:
Idee / Konzept: 
Tester:
Sonstige: 
changes
02 Jan 12:00

Version 2.1.1

Ein Fehler in der Moddesc hat eine Warnung in die Log geschrieben, wurde gefixt.

22 Dec 07:23

Version 2.1

Das Gewicht wurde angepasst,
Kann jetzt auch verdichten

20 Dec 12:01

Version 2.0.1

Es wurden bei der Version 2.0 die Partikel nicht eingeblendet. Fehler wurde behoben.

20 Dec 11:35

Version 2.0

Es sind jetzt zwei Schilder im Pack.
Bei dem ersten Schild ist der Bügel jetzt klappbar. Klappt in Transportstellung nach oben.
Beim zweiten Schild ist der Bügel unsichtbar. Zum Transport wird er gefaltet, damit man nirgends aneckt. Die vordere Begrenzung ist durch Glasstäbe gekennzeichnet, damit man die Abmessungen erkennt..

19 Dec 14:32

Version 1.0

Do you think this mod should be featured?