40k Imperial Guard Mini Addon
V 0.281 mod for OpenXcom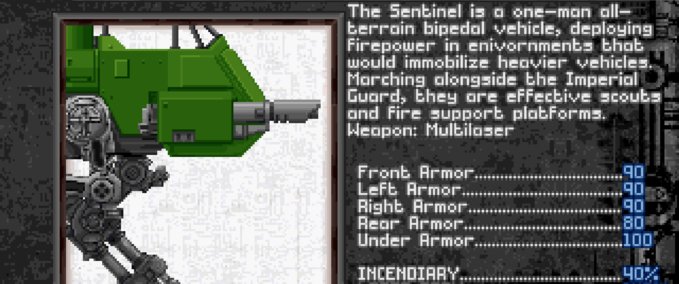 description
A small addon for the 40k mod to add Multilaser Sentinels, Veteran Officers as well a few balance touches and possibly fixes. The mod is modular per *.rul file so features can be hand-picked. Please see the README for details.
Features:
- Added Multilaser Sentinel
- Added Veteran Officer Promotion
- Added Hellpistol variant for Advanced Carapace
- Added light version for the heavy stubber and rebalanced the heavy stubber
- Added Hotshot to Mastercrafted Lasgun
- Made IG armors consistent
Install Instructions:
- Put it in your mod folder next to the 40k mod.
- Activate the mod in the game.
Credits
changes
20 Dec 23:01

Version 0.281

Empfehlungsrate
-/-
noch nicht genug Stimmen
Do you think this mod should be featured?
}