Agricultural Peninsula
V 3.1 Light mod for Farming Simulator 17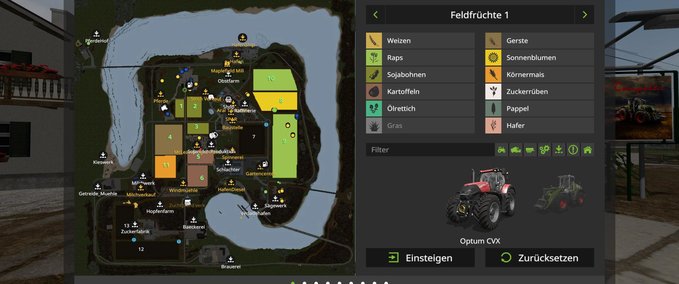 description
featured
The map is fictitious of me and is especially suitable for single players who value a lot on helper friendliness. SeasonMod is synonymous. It may be that a few small optical errors are included, but will constantly try to optimize. I have many suggestions I hope you have fun. All productions like hops, beer, flour, sugar, bread, cakes, milk, etc. can be picked up with the normal tipper, you do not need any pallets Garden center sold.
I have hopefully been able to eliminate all errors now.
The map now offers from version 1.7MF multi-fruit and many production sites.
The ship controls like the trains, preferably with the mod "LOCODRIVE".
Recommended mods:
Horse Transport 1.0.0.3
https://filehorst.de/d/chkcCkAd
-Kastor_Food,
http://uploadas.com/04f60x6f8drn/Kastor_Food_Inc_bitte_entpacken.rar.html
-kotteUniversalPack,
http://uploadas.com/k9hdgqncw4e4/FS17_kotteUniversalPack.zip.html
-LocoDrive
https://www.modhoster.de/mods/locodrive
-StopMilkSale
https://www.modhoster.com/mods/stop-milchverkauf
Credits
Modell: Giants, Kastor, Der_Wanderer, möchtegernbauer, Nic89.1, 112TEC, Niggels, The Snake, scottryder, San Andreas, M1800Power, Bummi, Marhu, Devin, Hewaaa, Bigblue, GE -Mapping, dajun, wellano920, dds-modding, Ingolf, Katsuo, Blacky BPG, marc85, mike LSF Modding, PaPa, TuneWar, pisty, manni112, adam5525, SLJ-Agrar, Mark44, MCMC, borutcebuli, Der Melker, ni-modding, XAnonymousX, atze1978, odin1985, Gaucho, sherco58,LS-farming.nl, Farmeraner, KIK, Aerocool1, Trekkerbodo, Zefir, LS-Community, Farmer_Andy und Zero_Ace, GTX und Eribus, Dorset,FSM-Team
Wer sein Objekt wieder erkennt und nicht erwähnt wurde, der kann sich jederzeit bei mir melden. Natürlich wird der Eintrag dann nachgeholt. 
changes
09 Nov 15:07

Version 3.1 Light

-hab die Strassen und Feldwege so bearbeiten können das sich die Helfer daran nicht mehr stören.
-da einige mit zwei verschiedenen Paletten arten nicht klar kahmen hab ich jetzt nur noch Leerpaletten zur Produktion.
-einige kleinere Fehler behoben

06 Nov 17:56

Version 2.3 Light

-viele kleine Fehler beseitigt
-Feldwege und Forstwege eingebaut

01 Nov 16:14

Version 22.1 Light

-viele Produktionen entfernt
-Neue Straßen
-Pferdehof zum Hof geholt

20 Oct 17:27

Version 2.1

Forstbereich bearbeitet
Gleisarbeiten an Zuglinie 2, neue Brücke
Gewächshäuser und Brennerei eingefügt und noch viele Kleine Verbesserungen.

07 Oct 16:30

Version 2.0

-Forstbereich bearbeitet, neues Sägewerk, viele Bäume nachgepflanzt und auf dem Boden geholt
-Digitale Anzeige eingefügt und noch vieles mehr

03 Oct 14:16

Version 1.9 MF

-Neue Brücken
-Forst erweitert
-alle Paletten kann man jetzt Verkaufen im Gartencenter
-Map ein wenig entschlackt
-viele kleine Sachen verändert bzw. verbessert

25 Sep 23:03

Version 1.8MF

Gras auf Straßen entfernt
Kleinere Terrain Anpassungen
Pferdeauflieger angepasst
Neue Brücke
kleinere Fehler behoben

22 Sep 00:12

Version 1.7MF

-Neue Texturen
-Multi Frucht eingebaut
-Viel Decomaterial eingebaut

09 Sep 18:02

Version 1.6

-alle Fehlermeldungen sind beseitigt
-Motoröl lager geht wieder
-Zucker laden geht wieder mit normalen Kipper
-einige andere kleine sachenOptimiert

05 Sep 18:14

Version 1.5a

Habe alle Fehler gefixt,mein Log ist sauber.

27 Aug 18:45

Version 1.4

Viele Fehler behoben

23 Aug 15:30

Version 1.3

Viele Verbessrungen im Optischen bereich

20 Aug 16:11

Version 1.2

-Wasserplane
-Kieswerk und viele kleine dinge

18 Aug 18:05

Version 1.0
Files

Do you think this mod should be featured?
Unterstütze den Entwickler!
Jetzt mit PayPal spenden
}