Azov5319
V 1.0 mod for SnowRunner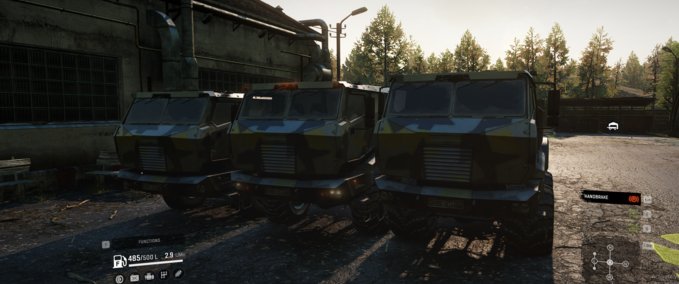 description
This is an overwrite of the original Azov5319 so Back up your original file. Manual install. Install path is C/D/E:\Program Files\Epic Games\SnowRunner\en_us\preload\paks\client. Once your there open initial.pak with Winrar. From there go to Media>Classes>Truck( for the azov_5319.xml & azov_5319_tuning for snorkel) Suspension(for the s_azov_5319.xml). Remember to BACK UP the ORIGINAL Initial.pak before adding a new mod to your game or your first time adding a mod. I hope yall enjoy the mod and have fun going through the deep mud and water with it.
Added all engines
Added 2 suspensions, 1 high, 1 custom. All suspension heights can go under the flatbed trailers
Added more tires for selection, kept the size at 50 inches
Added Rear Axle steering
Increase steering to 30 on front axles and -10 on rear axles
Increased fuel capacity to 500L
Reduced the Unlock Rank from 14 to 10
Reduced Unlock Rank on the snorkels from 20&24 to Rank 1
Reduced Price to 60K from 65K
Increased durability of suspension a bit
Increased steering speed from 0.17 to 0.20
Credits

Empfehlungsrate
-/-
noch nicht genug Stimmen
Do you think this mod should be featured?
}