Delta Pickup
V 1.0 mod for SnowRunner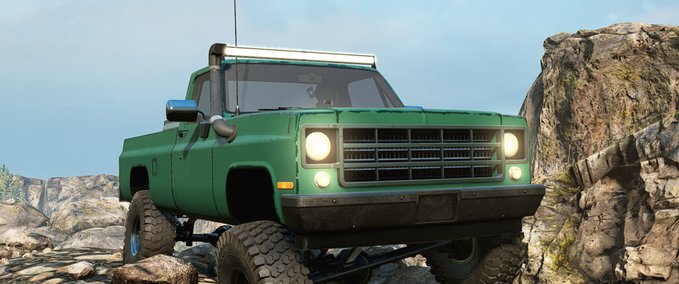 description
Delta Pickup created by: Iceberg - (Delta Gaming) - DnD modding.
Thanks to:
DCsponseredByQueso for providing the model.
TnB BigDubz420 for tires
RedbullTedIndustires, DCsponseredByQueso, RafaTGG and Jotaro testing.
Upgrades
Engine: 5.7L V8, 6.0L V8
Gearbox: General Purpose, Offroad,
Suspension: Stock, Lifted, Hauling
Winch: Stock Scout, Autonomous Scout, Autonomous Scout Extended
Tires: Full selection of SINGLE and DUALLY tires ranging from Highway to Chained
Diff. Lock: Installed
Frame Addons: Extra Front End Weight, Rear Box, Flat Bed, Toolbox, Gooseneck Trailer Hitch, Trunk Repair Supplies, Dually Fenders.
Visuals
Roof Top: Various Roof Lights
Bumpers: Stock (more in future update)
Misc: Full body paint, Long hood Antanna, Mud Flaps,
Exhaust: Rear-sides exhaust
Rims: Several custom options including some base game options based on tire choice
Dashboard Full working gauges will high attention to details, moving parts in cab.
Color
Full selection of color options including
Interior Customization
Air fresheners, bubbleheads. Custom cards
Please leave a rating and share this mod if you like it!
This is my second mod, if you find any issue please let me know in the comment section.
Feel free to join the teams discord if you wana have a chat @ https://discord.gg/aQm9Jrgb.
You can also find me on my youtube channel https://www.youtube.com/channel/UCEcgvbsaMFPxhZ4U2EVEZUA.
There you will see what other cool projects are being created.
If I find ANY trace of my mods stolen and/or tweaked, and re-uploaded, I WILL HAVE IT TAKEN DOWN. Thank you for understanding
-Product of DnD Modding-
Credits
Empfehlungsrate
-/-
noch nicht genug Stimmen
Do you think this mod should be featured?
}