Command and Control Vehicle
V 2.1 mod for Ski-Region-Simulator 2012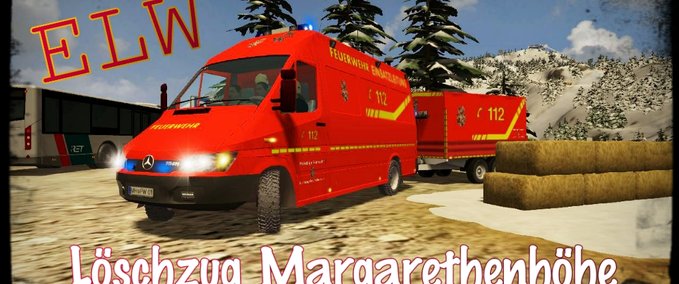 description
ELW
Vehicle 1 - Fire Company Margarethenhoehe
This is the MCU1 from the ModPack2 (Fire) version 2!
Orginalmod ELW:
Grisu118
Tag:
DonChris / AlfamoddingTV
Special features and changes:
- Realistic light
- Realistic blue lights and flasher
- White Front Flasher (LS15 texture)
- Rear fuse (LS15 texture)
- Flood Light (pages + Rear)
- Indicators
- Supertone
- Compressed air horn
- Passenger (decoration)
- Decoration (eg display, GPS antenna.)
- Design
- Margarethenhoehe Coat of Arms
- Changed fuel consumption
- Improved handling
Since this mod has no real function for SRS, he is considered "Funmod".
The mod may still contains errors and bugs.
I all who made ??this mod possible Thank you !!!
Information and support:
May not be changed or re-uploaded!
It is not allowed to reedit or upload the files again!
Have fun!
Credits
Grisu118
AlfaModdingTV
Tobias
changes
22 Jan 17:32

Version 2.1

Bugfixes:

Texturfehler behoben

15 Jan 07:02

Version 2.0
Files
checksum:
3efbe238fc2f5c5a6f278dc1300a04b2
Version:
2.1
multiplayer ready?
yes
Author:
www.donchris.jimdo.com
price in shop:
72000 LS
name in shop:
ELW
description in shop:
Einsatzleitwagen
Loeschzug Margarethenhoehe Fahrzeug 1
Urmod: Grisu118 Dr.Mod VWFahrer80 Umbau: DonChris
www.donchris.jimdo.com

Empfehlungsrate
-/-
noch nicht genug Stimmen
Do you think this mod should be featured?
}