Falkland XXL V1
V 1.2 Schnellerem Verkehr und Teilweise bessere Straßen mod for Farming Simulator 19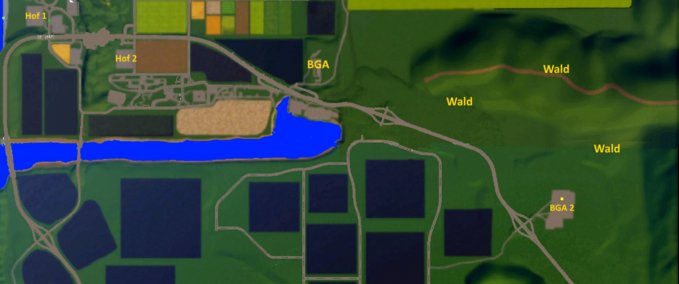 description
featured
Hello here the Falkland XXL V1 4Fach Map
48 fields and a few forests from 0.6 to 147ha :-)
3 x BGA with fermenter volume 500000
2x sawmill
3x gas station
3x tunnel
Highway in a circle on the map with 7 off and driveways
a mistake that I do not get away? if there who knew what already searched the net nothing with success which has helped (Warning: Damage savegame, item 18 with class name SellingStationPlaceable could not be loaded) but goes well on the Dedi multiplayer so far
File size ca.265MB
River with 2 accomplished (ford)
I would also like to sincerely thank all those who have written me so dear and have given 5 stars for the Normal Falkland, just great Thank you builds on :-) I continue with the normal but have patience, the 4 We play the subject in Multiplaier with a few friends and is thus the first priority. We also have live streaming to see what's coming up.
Attention Without my consent, the map is not linked to other platforms or under other names
Credits
Modell: Falk66
Textur: Original und Falk66
Script: Original und Falk66
Idee / Konzept: Falk66
Tester: Jonny Chris Matze Falk
Sonstige: 
changes
24 Feb 15:35

Version 1.2 Schnellerem Verkehr und Teilweise bessere Straßen

1. Schnellerem KI Vehrkehr ca. 54 kmh wegen der Autobahn.
2. Große Autobahnschilder.
3. Einige Straßen erneuert siehe Video vom Mappen.
4. Einige Fehler behoben wie Bäume in der Luft und und...
mir fällt im Moment nicht alles ein :-)

Weiter ist geplant Version mit fertigen Höfen und Tierställe, Nochmal Komplettumbau für Super Großen Feldern für CP Player je nach dem was an Vorschlägen von Euch kommt :-) Doch dies alles braucht seine Zeit bedenkt dies.

Kommt und schaut zu wie ich Baue und das mit Temporärem TS3 91.134.144.215:2360 meist in der Woche Abends ab 19 Uhr Live oder die gespeicherten LiveStreams
https://www.youtube.com/channel/UCETvhN3cVMDG_hVwh8U0cBQ?view_as=subscriber
GLG Falk

29 Jan 23:24

Version Falkland XXL V1.1

1. Zäune an den Höfen sind weg.
2. Fehler an den Verkaufsstellen behoben.
3. Verschiedene Unebenheiten beseitigt.
4. Verschiedene Feld-zufahrten erstellt.

27 Jan 20:01

Version Falkland xxL V1 4Fach

Do you think this mod should be featured?
Unterstütze den Entwickler!
Jetzt mit PayPal spenden
V 1.2 Schnellerem Verkehr und Teilweise...
}