Famulus Famulus RS14 / 36W
V 3.5 mod for Farming Simulator 17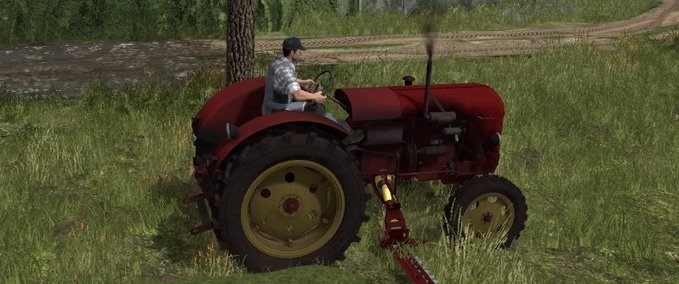 description
featured
Famulus RS14 / 36W

This is the Famulus RS14 / 36W with a water-cooled two-cylinder engine. The engine delivered a power output of 36PS at a rated speed of 1600 rev / min.
The top speed was 28 km / h. This tractor was built (first 30 PS - Version) 1956-1967 in the VEB tractor Nordhausen plant in the former GDR.

File must not be unpacked.
In the shop there are 4 versions available
-Green / Red, neuwerig
-green / red, like new without cab
-Red / yellow, Used vehicle
-Red / yellow, used vehicle without cab

Functions in the game:
animated -Lenkgestänge
-Motorhaube Can Vedas open
-Reifenstaub
-washable
-Pendelachse forward
animated -Lüfterrad
-Zugmaul And drawbar hide when they interfere.

Have fun wishes you
frog

My log is clean !!
I recommend to install the mod "LS17_enginebrake.zip".

Visit my HP myftp.myftp.org .
Please do not mess around it and re-upload. I would like to do it yourself. Your dirty to me that only the fun of modding. :-)
So please note:
It is forbidden to upload my mods new, not even in a different form! Please use the original download links!
It is forbidden to upload my mods again, even in altered form at! Please use the original download links!
Credits
Modell: frog
Textur: frog
Script:
Idee / Konzept: frog
Tester: frog
Sonstige: 
changes
21 Apr 22:15

Version 3.5

-Mähbalken inkl.Attacher hinzugefügt
-kleine Texturänderungen

08 Apr 14:32

Version 3.4

-Frontladerschaufel gefixt
-Motordaten und -sound leicht überarbeitet und Konfiguration für GearBoxAddon erstellt
-Pflegebereifung über Konfiguration kaufbar
-Reifenspuren angepasst
-Ballengabel hinzugefügt

01 Apr 23:24

Version 3.3

-headtracker gefixt
-Innenspiegel eingebaut
-Zwillingsbereifung
-Fahrverhalten verbessert

26 Mar 13:39

Version 3.2

-Frontlader über Konfiguration eingebaut
-Schaufel und Gabel mit Farbwahl
-Textur der Radgewichte verbessert
-Neuaufbau der Lenkgestängeanimation
-Fahrzeug xml und modDesc ausgemistet
-Haube kann z.Z. nicht geöffnet werden

19 Mar 21:46

Version 3.1

-konfigurierbare Radgewichte hinzugefügt
-Gesamtgewicht des Mod's angepasst

11 Mar 12:40

Version 3

Do you think this mod should be featured?
}