Fendt 939 Livery
V 1.3 mod for Professional Farmer 2014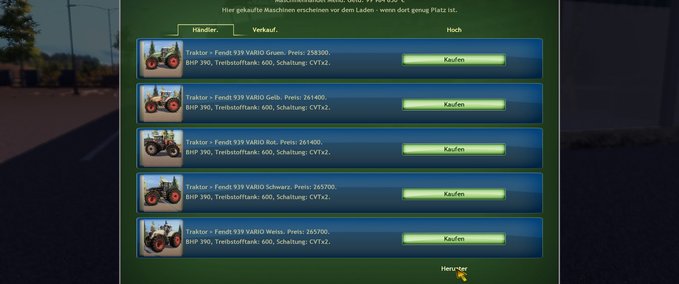 description
This mod does not replace any original LW 2014 vehicles or skins ... With this mod the Friend 4990 can be integrated in the colors green, yellow, black, red and white in the farmer Fendt 939 Vario 2014 umgeskinnter each as a separate vehicle. The most important is that it can also be easily removed again ..
The prefabs to be found in a separate folder "Machine" as well as the textures for mod files all have the change MR00_ - added MR29_ before the file get so you can quickly find the Windows search everything and delete them. Each as he pleases. I hope I could bring a little realism in the LW2014 .. Have fun with it.
Installation:
Simply insert unpack, and then the desired vehicle (the 4 folders "Misc, prefabs, scripts, textures") in the main installation folder from the farmer in 2014 ..
as Ex under me: "D: \ Program Files \ Steam \ SteamApps \ common \ Professional Farmer 2014" insert the desired mod.
Credits
Vielen Dank an Playway S.E und UIG für das Basisspiel zu diesem Mod.
changes
29 Dec 23:00

Version 1.3

Leider wurde noch ein Fehler gefunden, denn ich jetzt mit V1.3 beheben konnte...Sorry Leute

28 Dec 23:32

Version 1.2

leider ist mir ein Fehler bei der Innenausstattung passiert, und auch die Soundzuweisung bei den grossen Fendt ist jetzt richtig . Sorry nochmals :-)

28 Dec 15:35

Version 1.1

Der Fendt 939 in rot hat jetzt genau wie das grosse Vorbild silber farbene Felgen vorne und hinten bekommen.

Die Thumbnails sind nun berichtigt worden, und es ist jetzt wahlweise eine Zuweisung zum Soundmod V3 von Modhoster Mitglied "V8Rat" inkludiert.

Die Datei "Fendt939 SoundV8Rat_scripts.rar" entpacken und für den gewünschten Fendt den Ordner Script für die Soundzuweisung wieder in den LW 2014 Hauptinstallationsordner einfügen....und Spass haben.

28 Dec 12:28

Version 1.0 Final
Files
Empfehlungsrate
-/-
noch nicht genug Stimmen
Do you think this mod should be featured?
}