Fendt Favorit 500 C Serie
V 5.0 Final mod for Farming Simulator 17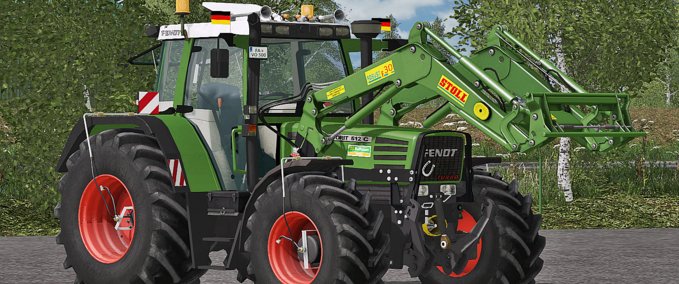 description
featured
Fendt Favorit 512 C version v1 for FS 2017th
Characteristics of mod:
Fully washable
Movable axis
panel IC
FL console
Delicate shine texture
Ability to open left door on the outside of the tractor
Wheels intermediate rows
Silenced cabin
Realistic sounds
twin wheels
Opened the door, rear window, windshield and sunroof
Animated hydraulic
Traces of tires
Added the ability to register the tractor
The folding bracket Rundumleuchte
Work light, turn signals, brake lights
warning signs Folding
Dark smoke
The dust under the wheels
Speedometer and tachometer
The folding front linkage
Log is free of errors
* Please keep the original link.
* You can mod on other forums move only please copy the whole thing.
* Do not spend processing.
Credits
Model:Fendtfahrer92
Textur:Fendtfahrer92/Brzeziol/Rysiu77
Programming:Rysiu77
Waschable:Rysiu77
Sounds:Rysiu77
Script:Sven777b/Rysiu77/MajsteR/Manuel Leithner
changes
27 Aug 22:22

Version 5.0 Final

*Korrigiert Farbtexturen und Glanztexturen
*Hinzugefügt RDA in Rädern
*Hinzugefügt Dynamische Schläuche für die FL-Konsole
*Hinzugefügt Michelin Reifen
*Neue Texturen Fenster
*Neue visuelle Konfigurationen
*Hinzugefügt Logo Konfiguration (Agravis Technik, ZG Raiffeisen Technik und BayWa)

23 Nov 22:26

Version 4.0

*Neue echte Farbtexturen
*Dynamische Schläuche
*Neue Schmutzhaut und neuer Farbschmutz
*Neue Abgasemissionen
*Neue Konfigurationsräder, Neue Reifen
*Neue visuelle Konfigurationen
*CoursePlay bereit
*Hinzugefügt Modell 511 C
*Passagier-Mod
*Neue Schaltflächen für IC
*Traktorversionen Kommunal und Petrol hinzugefügt
*Alle anderen Fehler und andere visuelle Änderungen wurden behoben

08 Feb 21:24

Version 3.0

*Selektion:Fronthydraulik oder Frontgewicht
*Veränderter Licht
*Neue Animationen und Konfigurationen
*Repariert alle Erkannt Fehler
*Verbesserte Texturen und Visuelle Änderungen

23 Dec 21:34

Version 2.0

*Der neue Scale
*Die Wahl der Motorleistung (512C-125PS,514C-140PS,515C-150PS)
*Verbesserte Texturen
*Einige Bugs behoben
*Neue Animationen und Funktionen
*Visuelle Änderungen

08 Nov 21:36

Version 1.0
Files
Do you think this mod should be featured?
}