The Fliegl Gigant ASW 491
V 1.2 mod for Farming Simulator 17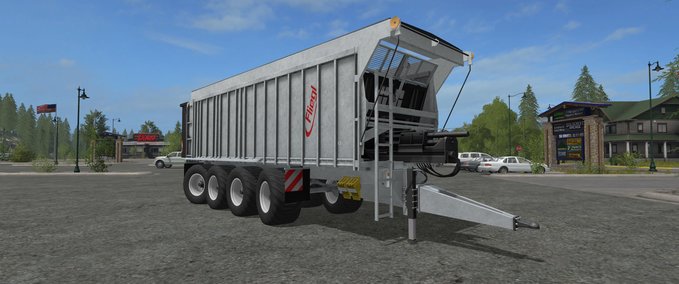 description
featured
Guten Tag
Ein neuer Tag, ein neuer Mod. Hierbei handelt es sich um einen Fliegl ASW 491. Es ist ein Wunschmod, deshalb habe ich ihn rausgebracht. Im Prinzip ist das mein ASW 391 mit einer vierten Achse.

Der Abschiebewagen dient zum Transport der Ernten. Er eignet sich besonders gut für den schnellen Transport. Da er die Ladung nach hinten hinaus schiebt, kann der Fliegl ASW auch in flachen Gebäuden und Abladestellen gut eingesetzt werden.
Der ASW befindet sich in einer eigenen Shop-Kategorie.
------Version-1---------------------------------------
Fahrzeuginfos:
Fahrgestell: Tridem mit Lenkachsen


Aufbau: Fliegl ASW grün/

schwarz

Kaufpreis Basisausführung: 46.500€

Tägliche Kosten: 20€

Kapazität: 45000l


Arbeitsbreite Miststreuer: 15m
Besonderheiten:
Wählbare Farben für die Felgen

Fliegl-Design in grün oder schwarz

Knickbare Deichsel

Baumstämme können reingeworfen werden


Wählbare Reifenprofile (Agrar-/Traktorprofil)

Abladen über Heckklappe oder Kornschieber

Konfigurierbar mit: Ladera

uma

bdeckung oder Miststreuer

***

Per Designfarbe kann die Farbe der Abdeckplane gewählt werden


DynamicHoses sind verbaut
***WICHTIG: Umkonfiguration vom ASS zum Miststreuer oder zurück sollte nur bei komplett entleertem Aufbau geschehen (ausgenommen Laderaumabdeckung)!!
So viel zu diesem Mod. Have fun :P
MfG, Cougii

PS: Keinen Re-Host und so!!
Credits
Modell: GIANTS, Klawkalash, Cougii, 
Texturen: GIANTS, Klawkalash, Cougii
Tester Singleplayer: KingQuantum, Cougii
Tester Multiplayer: Joe_Matthew, Malle, Cougii
Licht-Coronas von Ziberg
DynamicHoses von bm-modding
addStoreCategory von Ifkonator
NumberPlates von Blacky_BPG
changes
21 Jan 20:26

Version 1.2

-InputBinding hinzugefügt

04 Sep 17:57

Version 1.1

-KFZ-Kennzeichenscript hinzugefügt
-Fahrverhalten angepasst

29 Aug 11:58

Version 1
images
Files

Do you think this mod should be featured?
}