Frog's Tesla Cybertruck (SAS Swapped)
V 1.0 mod for SnowRunner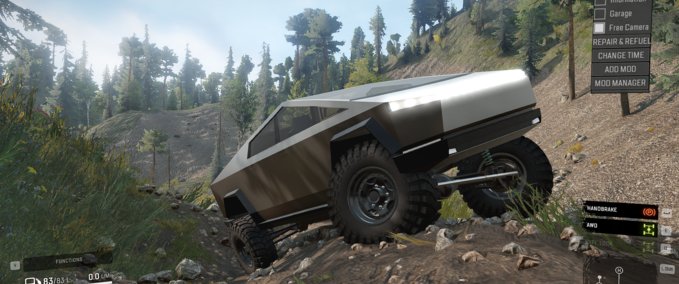 description
Frog's Tesla Cybertruck,SAS (Solid Axle Swapped)

Fully modeled by ME,

Has offroad tires and new rims

Also has a set of studded tires for snow operations

Has a Full Color Pallet

Can Haul Scout Trailers

Has 3 Transmission, Engine and Suspension Options

If you like the truck be sure to give it a thumbs up.

Join My Discord For Stuff: https://discord.gg/7ZbeBSC

DO NOT USE MY ASSETS FOR ANYTHING AT ALL. I Can and will copyright claim it and you will be banned
DO NOT TWEAK MY MOD AT ALL!!! I worked very hard to make this vehicle the way it is and it is perfect changing it from its current specs is just not a thing you need to do, you dont like the the way it drives just dont drive it and unsubscribe....
Credits

Empfehlungsrate
-/-
noch nicht genug Stimmen
Do you think this mod should be featured?
}