Ideal Extension
V 1.9.0.9 mod for Farming Simulator 19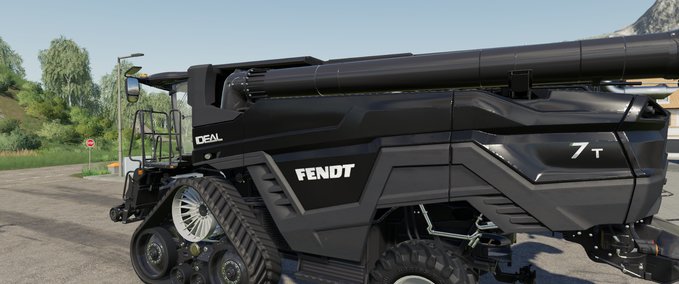 description
featured
!!! Patch 1.7.1 is mandatory !!!
Since I like to use the ideal as a thresher, but he is not suitable for small maps with his 12 meter cutting unit, I have created this extension.

Included in the pack is:
The ideal 7t, 8t, 9t and 10t

The ideal 7PL, 8PL, 9PL and 10PL

7.7 meter cutting unit of dynaFlex and powerFlow

9 meter cutting unit of dynaFlex and PowerFlow

10.7 meter cutting unit of dynaFlex and powerFlow

12 meter cutting unit of dynaFlex and powerFlow

Helianthus 5700 and 12000 cutting

Quasar F4 and HS16 cutting

Diamant HS8 and HS12 cutting

Draper 3162 cutting 

( User request )
changes:
Grain tank with 12500 or 17100 liters selectable

 rim color "black" and "chrome" added

(in the shop they look funny due to the black background)

Choice of color seat cushions

(gray, green and red)

upholstery selection

(fabric or leather)

Tablet animated

(see picture)

Warning lights for front / rear work light, diesel fuel, def and beacon inserted

 

Tire manufacturers Trelleborg and Michelin

 

tire variants standard and wide tires

(according to manufacturer's catalog)
Halm divider on all cutting units 

( configurable in the shop )

Rapeseed knife on all cutting units 

( configurable in the shop )

more animations

Hectares display

Thresher status Symbol

own shop Category by Ifko[nator]

own mod title by Ifko[nator]

threshing Flow Indicator by da-hoffi

Interior equipment selectable 

( fabric or leather )

Autocontur by Zetor6245 

( Slope compensation at the cutting units )

own Add Config by Ifko[nator]

own fruitTypeParts by da-hoffi

own light Extension by GTX

Drive Distance Display built into the tablet ( 

Blacky´s drive Distance Mod is required )

Color selection added to the thresher and all cutting units

Start screen with brand logo 

( Fendt or MF depending on configuration )

Indoor camera feels light

Animated performance display

Display hectares away 

( do not run sychronously )

Wopster tire pressure script 

( tire air pressure system )
Recommended mods:
Drive Distance from Blacky_BPG:
http://www.blackpanthergroup.de/forum/viewtopic.php?f=33&t=981
Ad Blue package from speergebiet:
https://www.farming-simulator.com/mod.php?lang=de&country=de&mod_id=129833&title=fs2019
!!! The mod can of course also be used without the above-mentioned mods, but then the mileage display and the ADBlue do not consume !!!
Credits
Modell: 
Textur: 
Script: Ifko[nator], da-hoffi, GTX, Blacky_BPG
Idee / Konzept: Marcus
Tester:
Sonstige: 
changes
25 Nov 14:38

Version 1.9.0.9

Deutsch:
-Scripte auf den neusten Stand gebracht
-kaufbares Tablet wieder entfernt
-Scripte können im Shop bei den Konfigurationen aktiviert bzw. deaktiviert werden
-Optisches Reifendrucksystem verbaut

Englisch:
-Scripts brought up to date
-bought tablet removed again
-Scripts can be activated or deactivated in the shop in the configurations
-Optical tire pressure system installed

27 Aug 15:51

Version 1.5.0.7

Deutsch:
- Licht am Entladerohr gefixt
- Draper Schneidwerk beim Dreschen etwas höher gemacht
- Warntafeln erweitert
- Tablet ist nun Kaufbar

Englisch:
- Fixed light on the discharge tube
- Draper cutting unit made a little higher
- Extended warning signs
- Tablet can now be bought

14 Apr 17:33

Version 1.5.0.6

- Universal Passenger Unterstützung hinzugefügt ( es wird der Universal Passenger Mod aus dem Modhub benötigt )
- Reifensystem komplett erneuert ( wegen Problemen mit der Reifenkollision, diese sind jetzt behoben )
- Optische eine Vorderachse verbaut
- Anzeige für die Schneidwerksgeschwindigkeit entfernt ( funktionierte mit dem EnhancedVehicle Mod nicht )
- kaufbare Warntafeln für vorne und hinten eingefügt

11 Mar 16:51

Version 1.5.0.5

- Startbildschirm mit Markenlogo ( Fendt oder MF je nach Konfiguration )
- Indoorkamera leicht angepasst
- Hektaranzeigen wieder entfernt ( läuft mit der Übersicht nicht synchron )
- Reifendruckanlage von Wopster

23 Feb 19:18

Version 1.5.0.4

(DE)
- Ideal 10 PL und 10 T hinzugefügt
- Kilometeranzeige im Tablet eingebaut ( Blacky´s Kilometeranzeige Mod wird benötigt )
- Farbwahl beim Drescher und allen Schneidwerken eingefügt

(EN)
- Ideally 10 PL and 10 T added
- Mileage display built into the tablet (Blacky's mileage display mod is required)
- Color selection added to the thresher and all cutting units

09 Nov 13:26

Version 1.5.0.3

(DE)
- 2. Display animiert
- Leguan 40 Schneidwerkswagen hinzugefügt ( kann verlängert werden )
- kleine Fehler gefixt

(EN)
- 2nd display animated
- added iguana 40 cutting unit carriage (can be extended)
- fixed small bugs

29 Oct 10:39

Version 1.5.0.2

Deutsch:
Logfehler behoben, wenn das Draper Schneidwerk mit einem Traktor transportiert wird.
(Dazu musste ich beim Draper das fruitTypeParts Script deaktivieren. Die Rapsmesser und die Halmteiler erscheinen je nach Frucht beim Draper automatisch)

Englisch:
Fixed a log error when transporting the Draper header with a tractor.
(For this I had to disable the fruitTypeParts script at Draper.) The rape knives and the stalk dividers appear automatically depending on the fruit at Draper)

18 Oct 17:35

Version 1.5.0.1

- Patch 1.5.1 ist zwingend erforderlich

Veränderungen:
- Autocontur von Zetor6245 ( Neigungsausgleich bei den Schneidwerken )
- Innenausstattung in Stoff oder Leder wählbar

Scripte:
- AddConfig von Ifko[nator]
- fruitTypeParts von da-hoffi
- Light Extension von GTX

09 Oct 16:02

Version 1.4.0.3

Schneidwerke:
- Helianthus 5700 Schneidwerk
- Helianthus 12000 Schneidwerk
- Quasar F4 Schneidwerk
- Quasar HS16 Schneidwerk
- Diamant HS8 Schneidwerk
- Diamant HS12 Schneidwerk
- Draper 3162 Schneidwerk

Scripte:
- threshingFlowIndicator Script von da-hoffi
- AddStoreCategory Script von Ifko[nator]
- ChangeModTitle Script von Ifko[nator]

weitere Änderungen:
- Drescherstatus Symbole
- Hektar Anzeige

12 Jul 18:06

Version 1.4.0.2

- Halmteiler an allen Schneidwerken
- animierte Rapsmesser an allen Schneidwerken
- weitere Animationen im Ideal ( siehe Bilder )

30 Jun 14:16

Version 1.4.0.1

- Ideal 7PL, 8PL und 9PL hinzugefügt
- Bandlaufwerk ist nicht mehr kaufbar, gibt es nur noch bei den T Versionen
- Reifenhersteller Trelleborg und Michelin eingefügt
- Reifenvarianten Standard und Breitreifen eingefügt
- Preise an LS angepasst
- Tablet weiter animiert
- Warnlichter für Diesel und Def hinzugefügt

- kleinerer Fixarbeiten ausgeführt

24 Jun 13:34

Version 1.4.0.0

- Polsterauswahl ( Stoff oder Leder)
- Chromfelgen kaufbar
- Tablet weitgehend Animiert
- Geschwindigkeit bei 7 und 9 Meter Schneidwerken erhöht (15 km/H)
- Warnlichter für Arbeitslicht vorne/hinten und Rundumleuchte eingefügt
- 10.7 meter Schneiderwerke eingefügt

- Schneidwerk Animation gefixt

16 Jun 16:45

Version 1.3.0.1 C

- Bandlaufwerk kaufbar gemacht
- Felgenfarbe "schwarz" hinzugefügt
- Farbwahl Sitzpolster ( grau, grün, rot, gelb)

29 Apr 11:44

Version 1.3.0.1 B

- Korntank Kapazität wählbar

27 Apr 20:43

Version 1.3.0.1 A
Do you think this mod should be featured?
}