Joskin Trans Space 7000 23
V 4.1 Wiht WheelShader mod for Farming Simulator 15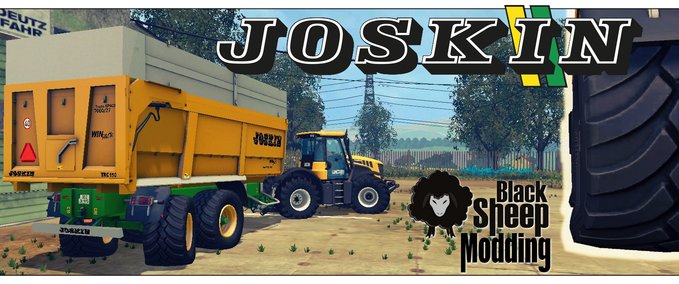 description
featured
Here I imagine you my "Joskin Trans Space 7000/23" trailer available.

Mod runs on the standard script.
-New Texture with AO.
-Multifruit accept crops:
wheat rape maize barley chaff grass_windrow potato sugarbeet manure fertilizer seeds silage forage forage_mixing lime woodchips compost oat rye sunflower seeds2.
-FillVolume To Dumpster einstellen.
-added washable The FS15 particleSysteme.
-Neu washable.


Mod ist LOG clean!!
Thank

you

, the

original link

to another site

on the same

hold

thank you

to keep

the original

link to

another

site

on the

same
Credits
Blacksheep Modding
changes
25 Sep 08:02

Version 4.1 Wiht WheelShader

Add script WheelShader
add Reflexion
Delete errors Log

19 Dec 15:40

Version 4.0.1

Correction fillVolumes1

18 Dec 19:41

Version 4.0

- Revisiting 3d.
-New Ao cleaner and more details.
-Fixed The FillVolume unloading.
-Fixed The particleSystème.
-Fixed Various bug.
-More detailed and clear logo.
-Added bodywork for earth fruits (wooden).
-Fixed colision on the kipper (too high).

capacity="25000"
capacity="30000"
capacity="32000"
Files

Do you think this mod should be featured?
}