Kaues Kamp
V 1.0.0 mod for Farming Simulator 17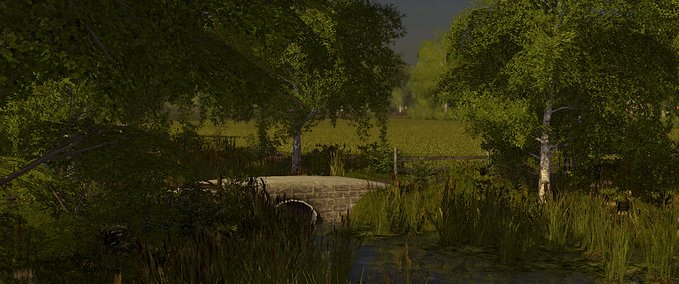 description
featured
Hello,   There is not much to say about this map for once - with it I want to end the LS17 and make some holiday before it goes on in the LS19 as usual.   Expect you: - a small, well-kept yard with a small BGA - pigs, cows, sheep, chickens - Full forest support - Space for placeable objects (such as straw addon) - Manure, compost and lime available for purchase - Cow pasture can also be used as a normal meadow - Milk can be driven by yourself - various scripts (ChoppedStraw, Seasons, GMKFC, HoseSystem, grazingAnimals) - Gold nuggets - AI traffic and pedestrian - a natural environment - 12,172ha of arable land on 10 areas and various meadows - ...   You start with a manageable fleet on your small yard and have to work out everything. Right on the farm you have the BGA and the possibility of pig farming, close to the sheep pasture and a little further away the cow pasture. What you do is completely up to you as usual.   Thanks in advance to Zetor6245 and McBee - without these two the map would not have been available for download! Of course, I also thank all the testers and my team, who have bravely served all the mistakes so I could hopefully eliminate all.   The map is as usual first here on modding world, if anyone wants to offer them on another page, then he can the one week after the official release using the original DL links (either directly to Modding World or the FIlehorst- Link) like to do.   As well as the Hermanns Eck I offer you the map here with direct downloads, so that none of you should get any problems during the download. I do not deserve a single dime, I just enjoy the Mapbau and I'm glad if the users enjoy my uploads. If I find any pictures or videos where my maps are played, that's reward enough. If you still want to support me in any way, you are welcome to do so via PayPal (silke-luebkemann@gmx.de). I am happy about every attention! : Beer:   I wish you much fun with the map, see you in the LS19 again!
Credits
Mapper: metalger1
Credits:
Modding-Welt Team
BernieSCS
Raptor5
Manuel
JD_Power
Zetor6245
McBee
Ifko[nator]
El_Cid
fendtfan1
Giants
changes
08 Sep 21:24

Version 1.0.0
Files

Do you think this mod should be featured?
Unterstütze den Entwickler!
Jetzt mit PayPal spenden
}